Are you planning to upgrade your wallpaper but wondering how to take off the tatty, old-fashioned one? The process can be daunting and lengthy at times. It can also turn out to be dangerous, especially if you're using chemical wallpaper strippers that are likely to release toxic fumes into the air.
So, how exactly do you take out old wallpaper before starting the replacement process?
While some recommend using chemicals and others advocate for the use of homemade solutions, others ask, "Can I use a steam cleaner to remove wallpaper?" We answer this question and help you learn a few more things about steam cleaning and wallpaper removal.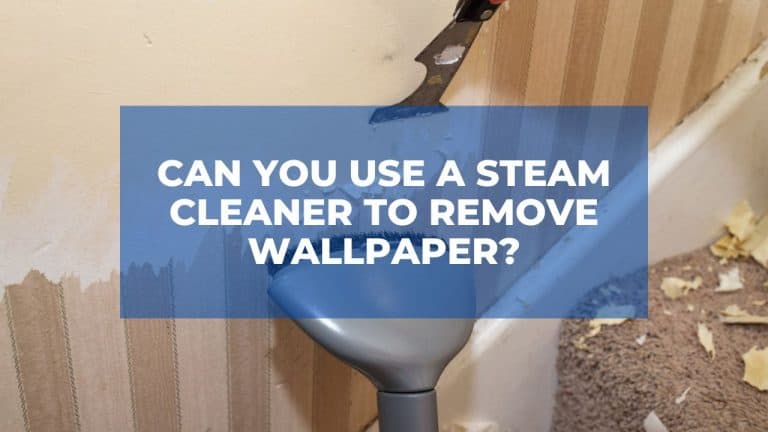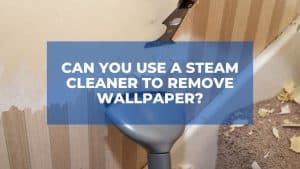 We also recommend other effective ways to remove wallpaper.
Can You Use A Steam Cleaner To Remove Wallpaper?
Yes, you can use a steam cleaner to effectively remove wallpaper. It's a fast, environment-friendly, and cheap method. Hot steam quickly dissolves the adhesive, making the wallpaper peel off quite easily.
Do You Always Need a Steam Cleaner to Remove Wallpaper?
While a steam cleaner is effective at removing wallpaper, you won't be using it all the time. Newer homes have strippable wallpaper that does not need a steamer.
If you want to know if your wallpaper is strippable, pry the bottom corner of the wallpaper and try pulling it up. If it comes out easily, you don't need many tools to remove it.
Our Recommended Steam Cleaner To Remove Wallpaper
Sale
Wagner Spraytech 2439019 725 Wallpaper Steamer, Steam Cleaner for Easy Wallpaper Removal, 2 Steam Plates Included
CHEMICAL FREE WALLPAPER REMOVER: Just add distilled water to this Wagner steam cleaner for a natural and environmentally friendly way to remove old or outdated wallpaper. No chemicals are needed, making this a safe option for a house with kids or pets
EASY WAY TO REMOVE WALLPAPER: Use this steam cleaner to apply steam to your wallpaper. This will soften the adhesive backing, allowing for easy wallpaper stripping and removal
TWO STEAMPLATES: Includes a large 8" x 11" steam plate for large work areas and a small 3" x 6" steam plate for small work areas. The new and improved steam plates provide more uniform distribution of steam and higher efficiency to speed up projects
LONG RUN TIME: This wallpaper steamer heats up in approximately 12 minutes and offers up to 2 hours of usage time on a full tank, which is perfect for big wallpaper removing projects
LIGHTWEIGHT AND PORTABLE: The steamer is lightweight and portable to easily maneuver around large rooms. Plus, the 12 ft. cool touch hose provides 24 ft. working area to reach tall walls and across rooms
How To Use Steam To Remove Wallpaper
You now understand that the best way to remove an old wallpaper is using a steam cleaner. We've put the following guide together to help you navigate the process of wallpaper removal using a steam cleaner. But first, you need the following tools and equipment before proceeding:
Eye protection gear
Hand gloves
A wallpaper steam cleaning machine
Drop cloth
Clean water
A wallpaper scraping tool (paper tiger or putty knife)
An appropriate amount of white vinegar (depending on the surface area of your walls)
Step 1: Prepping The Room
The first wallpaper removal process is preparing your room. You need to clear it so that you have ample working space and protect several places to avoid damage.
For example, use a waterproof drop cloth to protect your flooring or carpet after removing all furniture from the room. Turn off the main power inlet into the room and cover all electrical outlets with waterproof material.
What's more, open windows if you're working in a small room to prevent moisture buildup. While doing all these, you must be dressed in proper protective gear.
Step 2: Use The Perforation Tool To Puncture The Wallpaper
Next, use the perforation tool to puncture the wallpaper so that there are small holes into which steam can penetrate and loosen the underlying wallpaper adhesive. The perforation tool can be anything from a paper tiger, putty knife, scraper, et cetera.
Take care not to destroy your drywall while puncturing the wallpaper. For example, avoid pressing the paper tiger too hard against the wall. Otherwise, you may have to repair the walls before installing new wallpaper.
Step 3: Use The Steam Cleaner
If you have wallpaper that has been adhered to the walls for a long time, it's time to prepare and use your steam cleaner to remove it. Add water to the steamer's tank and plug it in.
Leave the water to heat to about 140°F and pull the trigger to test if steam is ready to come out of the nozzle. When ready, start the steaming process as described below.
Pull the trigger and press the steamer pad onto the wallpaper borders to remove them first. If you don't have wallpaper borders, start steaming the perforated wallpaper directly by holding the steamer pad onto the wall for about 10 seconds.
If this doesn't loosen it enough, you may hold it longer. For tighter spaces like below sinks and around taps, you may need to use a smaller steamer pad. Experience will tell you how long you need to hold the pad onto the wall.
Nevertheless, always remember that holding it for too long can damage the underlying drywall while applying too little steam will make it hard to remove the wallpaper.
If your steamer manufacturer recommends adding anything other than water into the tank, consider adding a fabric softener to help loosen very stubborn wallpapers. A softener will enhance the loosening process so that the wallpaper is softer, hence, easier to remove.
Step 4: Scrape Away The Wallpaper
Remove the wallpaper using a wallpaper scraping tool or drywall knife. Again, take care not to destroy the underlying drywall by ensuring that you do it gently but thoroughly.
At some point, you may need to apply steam again to make the scrapping process simpler and less destructive to your walls. Continue scraping until you get rid of all wallpaper.
Step 5: Clean The Walls
This final process is meant to remove any remaining adhesive, wallpaper traces, and other debris. A solution of water and vinegar will help you through this process. Prepare the solution by mixing equal parts of water and white vinegar in a bucket.
Transfer some of the solutions into a spray bottle and spray it on the walls. Avoid oversaturating the walls. Then, use a sponge to wipe down the sprayed walls until all adhesives, debris, and paper traces are gone.
Finally, wipe down the walls with clean water.
Frequently Asked Questions:
How Long Does it Take To Remove Wallpaper With A Steamer?
After perforating the wallpaper, you need to hold the steam plate over the wallpaper for about 10 seconds at a time until the underlying adhesive weakens. However, you may have to hold it for up to 1 minute at a time if the adhesive forces are stronger between the wallpaper and the wall.
How Do I Remove Wallpaper Without A Steamer?
Apart from using a steam cleaner, you can also use a wide variety of wallpaper removing solutions. Whichever solution you're using, the process described above remains the same except for step 3.
What is The Easiest Way To Remove Old Wallpaper?
The simplest way to get rid of old wallpaper is using a steamer. Old wallpapers usually stick very hard onto the walls and only a steamer can help you remove them.
Can you Use A Floor Steamer On Wallpaper
You might be able to use a floor steamer on wallpaper, but it is not recommended as the heat may damage the surface. If you still want to try it, make sure to use low or medium heat in order to avoid any harm.
The Bottom Line
Upgrading your wallpaper is a great way to add value to your home. But you need to remove the old one first. And yes, you can use a steam cleaner to remove wallpaper effectively. This method is less expensive and does not pollute the environment.
Follow the steps described above to do it right and realize the best results. Good luck!