Babies just light up your life, don't they?
However, they are also well capable of darkening it. When you have a baby in your family, the chores get multiplied by many. However, you will always feel better-taking precautions and working extra just to keep the baby safe.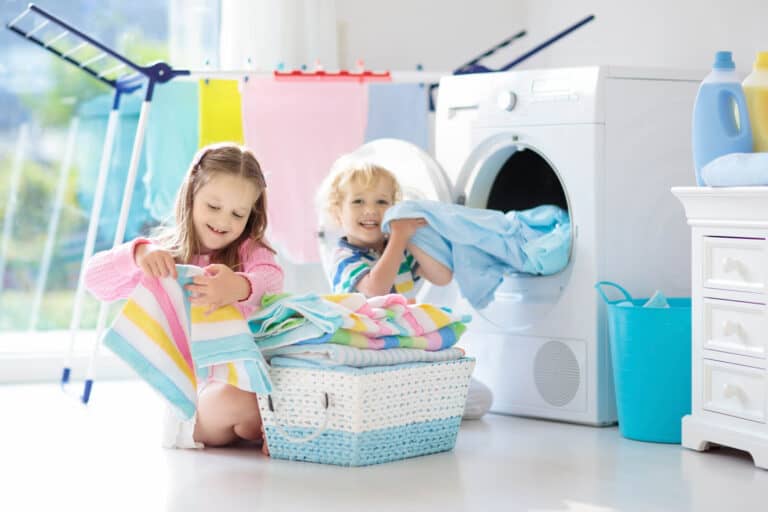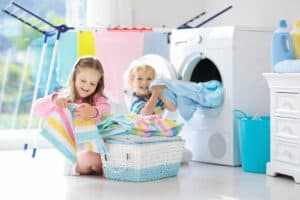 In fact, the extra workload is how you keep your mind sane and your fears in check. None of us wants the 'unable to communicate' babies to suffer from something they cannot tell us about. This is why we keep them away from all kinds of danger and also keep them in check.
However, you cannot keep clothes and nappies away from them, can you? And, you have to keep these clothes clean while also assuring that the clothes will not harm the baby's sensitive skin.
While all babies do not react to detergent, nobody wants to take a risk by using a detergent that can cause harm. This is why we are looking for the best laundry detergents for babies with sensitive skin. The catch is that it is completely subjective.
Therefore, the buying guide will help you figure out what you want and the reviews will give you an idea about what you can get.
IN A HURRY? HERE'S OUR TOP PICKS…
Laundry Detergent for Babies with Sensitive Skin Reviews
The first thing you want from detergents made for babies is the hypoallergenic property. And, this Dreft Stage 1 liquid baby laundry detergent is hypoallergenic and it keeps its words. You will notice that this detergent causes no allergy or irritation for your baby.
Apparently, it contains biodegradable surfactants and enzymes. Because it has enzymes, it is very good at removing stains. Soiled fabrics and clothes are some of the things that baby detergents have to deal with that the other detergents usually do not deal with.
The good news is that this laundry detergent is well capable of dealing with soiled clothes.
However,r you will have to use a bit more of it when dealing with the soiled clothes, Because, after all, they need a deeper cleanse.
Now, the detergent has quite a strong smell. While the strong smell will deal with the soiled clothes well, you may find the smell a bit too overwhelming.
It will kill the natural baby scent that clothes usually have. Apart from that, the detergent is very easy to use. It is liquid so you do not even have to do much when using it. All you have to do is mix it with the water in the right amount and get to cleaning.
The detergent does not contain any added chlorine or phosphates and is very gentle on the baby's skin. Apart from that, 50 ounces of detergent can handle 32 loads of baby clothes.
Apart from that, it is High Efficient so it is compatible with most washing machines. It will last a while and the price is quite reasonable for what this detergent offers.
Thumbs Up For
It is hypoallergenic in nature so it won't cause any allergies.
It cleans quite well, and the enzymes in it remove stains well too.
Great for cleaning soiled clothes.
It lasts a while.
Very easy to use.
The price is reasonable.
Completely natural and it does not use any toxic chemicals that can harm the baby.
If you are looking for a detergent that will really get your baby's clothes clean then this may be the one you are looking for.
Apparently, this detergent is made from completely plant-derived ingredients. It does not contain any of the chemicals that can cause harm to your baby's sensitive skin.
Apparently, this detergent is great at cleaning soiled clothes and fabrics as well. In fact, it removes stains quite well. But, if the stains are too stubborn, you will have to use more of the detergent to get the stain out. In general, the detergent is quite tough on the stains.
The detergent is triple concentrated. As a result, you do not have to use a lot of it when you are using it. Therefore you won't run out of it too soon and will not have to buy it too frequently. So, you can consider it cost-efficient.
Apparently, one bottle is capable of dealing with 60 loads. So, that is something.
Furthermore, the detergent is compatible with HE washing machines so you do not have to worry about washing all the clothes using your hands either. You can leave it up to the detergent and the washing machine.
Other than that, this detergent is non-allergenic. As a result, it will not cause any allergies in your baby. In fact, it is very gentle on the baby's skin.
It does not contain any brighteners either. While the white clothes won't shine bright, it won't cause any unnecessary side effects on the baby either. On top of it all, you will find the detergent providing you with a lot of value for the price you buy it at.
Thumbs Up For
It is good at cleaning the clothes- even the soiled ones.
Very safe for use- because it does not use any harmful chemicals in the build, not even brighteners.
Completely made of plant-derived ingredients.
HE certified so it can work with most washing machines.
It lasts quite a while being triple concentrated.
Good value for the price.
It is gentle on the baby's skin and does not cause allergies.
It has no smell.
Thumbs Down For
It may not fight stains that well.
The container may not be very easy to use.
Want a baby laundry detergent that can handle the stains like nothing else? Then, you can consider this Mrs. Meyer's laundry detergent.
Apparently, this baby detergent has enzymes among the ingredients that help it fight stains really well.
Since it can fight stains so well, it can clean very well too. Hence, the removal of dirt, germs, and stains is something you can rely on this detergent for. However, it is not quite clear what this detergent is made from.
One thing we know for sure is that the detergent is made with cruelty-free methods by Mrs. Meyers. However, what chemicals are used in the detergent is not stated well.
While it does a great job without causing any harm. There were also a few cases where it did cause a rash or irritate the skin.
So, if you do want to give this detergent a try then try it on a small amount and use it on yourself first, not the baby immediately. The detergent comes with a slight scent that some are very fond of others are not.
Apparently, the detergent may not be very good at removing the bad odor of the clothes. If you are washing clothes that really stick then you may consider washing smaller loads with more concentrated water. Then, it may work.
However, at times, the clothes smell bad even after being aired. When it comes to the value it offers, the detergent lasts a while so you won't be very disappointed.
Thumbs Up For
It cleans quite well.
It has enzymes that help it remove the stains very well.
Many people like the scent it has- it's light.
It is made of cruelty-free ingredients.
Quite concentrated so lasts a while.
Thumbs Down For
It may cause a bit of irritation so be careful.
It may not be able to remove the bad odor that well.
If you are looking for laundry detergents that will take good care of stains then you can consider the Dreft Baby Laundry Detergent. Apparently, it can handle any kind of stain that babies get on their clothes- from food stains to the soiled clothes. Despite being sich a strong cleaner, this detergent is quite safe to use.
Firstly, it is hypoallergenic. Even people who usually have trouble with detergents at first face no problem when using this detergent for the very first time. Therefore, you can trust this detergent around your sensitive baby.
Apparently, this detergent also removes the stains that come from toddlers crawling. Now, the detergent we are talking about is the Stage 2 detergent, not the stage 1. You may find a misleading picture on Amazon where it shows stage 1 which is basically for newborns. This one is for a bit older babies like toddlers.
The detergent is highly concentrated so it lasts for quite a while. You can use a small amount with a lot of water to clean a huge load. Furthermore, it is certified to be HE so you will find it compatible with most washing machines.
In fact, this detergent also has a scent. Now, this scent Is quite sweet and not even strong so it should not cause any irritation. But, if you do not want scent with this baby detergent then you won't like it.
Thumbs Up For
It can handle stains really well.
It cleans well.
The Hypoallergenic nature makes it very safe for babies.
It does not contain anything harmful.
Bears a sweet scent.
It lasts a while.
Compatible with most machines.
Cost-efficient.
Thumbs Down For
The container may leak.
Buying it online can be misleading.
There are many detergent brands offering detergents that are made of completely naturally derived ingredients. However, there are quite a few that put so much thought in which naturally derived ingredients they use like the Attitude detergent brand.
In fact, this Sensitive Skin baby laundry detergent has the best naturally derived ingredients together in this detergent.
Not only is this detergent safe for sensitive skin but it also is very gentle on it. Apparently, it uses red vine leaves in the build which is known for anti-oxidizing, rejuvenating, and glowing properties.
So, not only will this detergent make your baby's clothes look better but it will also have a good impact on your skin.
When it comes to cleaning, it does not have artificial enzymes to clean the clothes as those enzymes can cause fabric harm. Therefore, it really is gentle on the fabric. However, this detergent is probably not the best at cleaning. But, it may be the best in case of the type of naturally-derived ingredients it has in it.
The detergent does not have any fragrance. Therefore, there is one less thing to worry about- a smell that irritates anyone in the house. Other than that, one bottle of it can handle around 35 loads.
Now, when it comes to value, you will find that this detergent has a higher price than others. Also, it deals with fewer loads than others. But, if you think only this detergent can be safe for your house, you can still use it.
Thumbs Up For
It uses naturally derived ingredients that have really good properties.
The detergent is quite good at dealing with people with sensitive skin.
It is quite gentle on the fabrics.
It does not contain any enzyme.
No fragrance.
Thumbs Down For
Not the best at cleaning the clothes.
A bit expensive when the number of loads it washes is considered.
If you are looking for a detergent that will neither have any impact on your baby's skin nor the environment then this Rebel Green Natural Baby Laundry detergent may be the one you are looking for.
In fact, it does not contain any toxic chemicals in it that could be the cause of a rash or allergy. Apparently, it is made with a plant-based formula and a biodegradable nature.
Thus, it does not have anything that can trigger sensitive skin. Furthermore, it is hypoallergenic. So, if there is someone in the family with any kind of allergy, he or she is safe too.
It consists of good ingredients which include natural oils and it is certified by USDA. The detergent has a light scent. It may seem a bit strong when you open the package but it slowly lightens up when you wash the clothes and dry them. The smell does a good job of removing the bad odors.
Apart from that, you will find this detergent quite easy to use because it is compatible with most washing machines- HE certified.
However, you won't find it equally easy to dispense because the pouring mouth is too small. The detergent can handle around 64 loads which is quite a good capacity.
However, you may find the detergent a bit expensive compared to others. If this is the detergent you like most in terms of what it contains and also smell then the price is a small thing you have to pay.
Thumbs Up For
Made from completely organic ingredients and plant-based formula.
It does not contain any toxins.
The Hypoallergenic nature makes it very safe for babies.
It has a nice light smell.
Compatible with most washing machines.
Quite a good capacity.
Thumbs Down For
A bit expensive.
The container is not the most convenient to use.
It does not clean that well.
If you want a detergent that has nothing it that can cause a baby's sensitive skin any harm then you are looking at the right one.
In fact, this Pure Natural laundry detergent is not only hypoallergenic but a lot of other things. But, first, let us tell you that it never causes any kind of allergy.
This detergent is completely non-toxic thus you do not even have to worry about the impact it leaves on the environment. Apparently, it even has surfactants that make sure that it does not get redeposited on the fabric after use. You will find it quite easy to use as well because the container is quite well-designed.
It not only cleans really well with the plant-based cleaning agents but it also leaves the fabric feeling quite soft. The sweet mix of tenderness and cleanliness is hard to achieve with detergents but this detergent helps you achieve it quite easily.
Furthermore, it has a very reasonable price. In fact, you can deal with 64 loads with just a full container of it- so, this detergent lasts for quite a while too.
Thumbs Up For
Very safe to use on baby clothes.
It cleans the clothes quite well.
Leaves the fabric soft.
Quite a reasonable price- the detergent lasts a while too.
Eco-friendly detergent.
Easy to use.
Thumbs Down For
It may not be that great on stains.
The Buying Guide
Here are a few factors that you have to keep in mind when considering a detergent for washing your baby's clothes.
A Detergent With Nothing Toxic or Chemical-based
Most detergents do contain a bit of chemical in them. What you can focus on is finding detergents that do not use any chemical that is harmful. Or, you can find detergents that use chemicals in the least amount.
For example, the best detergents do not contain sulfates, phosphates, parabens, etc. That could cause the baby harm. Furthermore, they are usually made from plant-derived ingredients. So, look for detergents that have the 'Completely Natural" or "Plant-Based Cleaning Ingredients" label on them.
These detergents will cause no damage even in the long run.
Detergents With The Hypoallergenic Property
Your baby may have allergies that no one is aware of. Thus, you cannot risk triggering allergic reactions. There are detergents available with the "Hypoallergenic' label on them.
Apparently, these detergents take pride in not causing any allergies or irritations. While, yes, sometimes even they cause irritation, the chances are quite low. You have to check the ingredients present in the detergent as well. Because there may be a particular ingredient that our baby is allergic to.
Scent-Free Detergents
While the beautiful scents that detergents have can be quite attractive, they can irritate the baby as well. You do not want to keep the baby around too strong scents. If you really like the scent and the baby has no trouble with it either then you can choose detergents with a light smell.
Nevertheless, it is best to avoid the strong-scented detergents in this case.
Strong Cleaners
While the detergents you use to wash the baby's clothes must be light on the baby, they should be able to clean well too. Apparently, you do not want the baby's clothes to still contain germs after you are done washing it. Some baby detergents can be too mild for the task at hand and you do not want that.
Even the naturally derived ingredients can clean the clothes very well and you want that. Especially if you are cleaning poop stains or urine too. Thus, the detergent must be able to clean well and remove the odor whether it leaves a scent or not.
The Brighteners
You may let your baby wear white a lot but you are not exactly preparing the baby for a formal meeting. Therefore, nobody cares whether the white is bright white or less white.
In fact, optical brighteners are strong chemicals that stay on the fabric. So, it is best to avoid detergents with optical brighteners.
If your baby does not seem to have any problem with the brightener then you can consider it. But, it is not really necessary.
Stain Removal
Since there will be a number of harmless accidents happening with the clothes of a baby, you will come across a lot of stains. In this case, you will have to consider detergents with enzymes or properties that enhance the stain removal capacity.
Apparently, enzymes are usually a protein, carbohydrate, starch, etc that work well to remove the stains.
Generally, the presence of any enzyme should be enough. However, in the case of a baby, you may consider checking what kind of enzyme the detergent has.
If the baby has any allergies related to it, you should resort to some other detergent. Because the baby's wellbeing is more important than stain removal.
The Form Of The Detergent
You will find that detergents are mainly available in three forms each with their own sets of benefits and disadvantages. Now, this is something you will have to consider for yourself- for your ease of use.
Apparently, with so much work to do, you will benefit from using a detergent that is easy for you to use.
Powder Detergents:
These are probably the oldest form of detergents. You can measure them up according to necessity and you can make the solution more concentrated if you are looking to deep cleanse. However, they leave residues in washing machines. But, they are great at removing stains.
Liquid Detergents:
These are great options for washing machines too. Apparently, they are easier to use as you do not have to mix them proportionately as the measurement is fixed beforehand. But, that also gives you less flexibility. They are more expensive than powder detergents. However, they are easy to use as well.
Pods:
These are laundry detergents that are for one-time use only. They come in the form of soap or candy-like balls of various shapes. Now, the problem with these pods is that they are small in size and may be mistaken by kids for something edible. As a result, accidents can happen so we would not recommend pods for houses with kids.
High Efficiency (HE) Detergents:
Since you have a baby in the house, you must be concerned with the environmental impact of the detergent you buy. Now, you want to conserve energy and not misuse resources. One such resource is water and you should only use the amount of water that is necessary.
High-Efficiency detergents are such detergents that use a minimum amount of water to get its job done. Apparently, they usually work with High Efficient washing machines, machines that do not work with any other detergent but the one marked "HE".
So, if you wash the clothes using a washing machine, make sure that you are buying the HE labeled detergents because the washing machine works well with them.
The Temperature Of The Water That The Detergent Needs
Hot water is usually great for any kind of cleaning task. However, hot water can be inconvenient, expensive, and risky to get as well. Especially with a baby around, you d not want to deal with hot water. But, not all detergents dissolve well in cold water so that is a problem.
This is why you can focus on cold water detergents that do not mind the low temperature and work well in it. However, it is best that you know that detergents, any kind of them, will work better in warmer waters.
The Price And Capacity
You will be using the detergent daily so you have to consider how often you may need to buy a new pack. Since you have baby clothes to deal with, know that you will be washing more baby clothes than you have ever washed in your entire life.
This is why consider how much load the detergent pack is capable of washing and also consider the price on the basis of that.
Make sure that it won't take a toll on your bank account.
The Benefits
Why should you buy detergents that are particularly good for sensitive babies?
They often cost even more so why should you not stick to your traditional family detergent?
Here is why:
One Less Worry:
With a baby around the house, you already have like a thousand things to fear and take care of. Your tension and stress know no bound already, Therefore, you do not want what the baby wears to be another concern as well.
This is why it is best if you consider the detergent you will be suing well because of it only the precautions that can bring you a bit of peace and certainty. And, then, you have one less thing to worry about.
Deep Cleanse:
While you make sure that the detergent will not be causing your sensitive baby any harm, you will also have to make sure the germs in the clothes are gone.
Such a detergent will make sure that it protects your baby from all kinds of harms- the ones caused by itself along with the ones caused by its enemies- the germs of the clothes.
Good For Everyone:
While you may not be able to use the detergent you used to use for your baby's clothes, you sure can use the baby detergent on your clothes.
Because the detergent does its job well and also has no harmful side effects. It is, ultimately a better option for the whole family, not just the baby.
Frequently Asked Questions:
What is the main difference between baby formulas and original formulas?
The baby formulas usually have more plant-derived and hypoallergenic properties. On the other hand, the original/ adult formulas have ingredients that mainly focus on cleaning better.
Can you wash cloth diapers with baby detergents?
Yes but makes sure you use one that is good at washing it.
What should I choose? Liquid or powder detergents?
Apparently, liquid detergents do a great job at cleaning oily and greasy stains. On the other hand, powder detergents are more suitable for toddlers as they deal with mud stains better.
In conclusion
Buying a detergent that no one in your house dislikes is hard enough. You also have to make sure that the detergent does its job well. On top of that, if it is baby's sensitive skin you have to consider, all hell can break loose on you.
However, if you are well equipped with the knowledge and are aware of the market conditions then you can easily find the best laundry detergent for babies with sensitive skin. You are already halfway there.