A prime way to save while shopping is to purchase products when they're on offer, or in bulk, even if that means piling more and more products in your store. Ostensibly, however, this will only apply to products with longer shelf lives.
After all, it's stupid to stock in expired products — you won't be saving a dime anymore.
A gem rule of thumb while stocking in such products for the above reason is establishing a balance between the amount you already have in stock, the amount you often use, and the amount you add to the stock.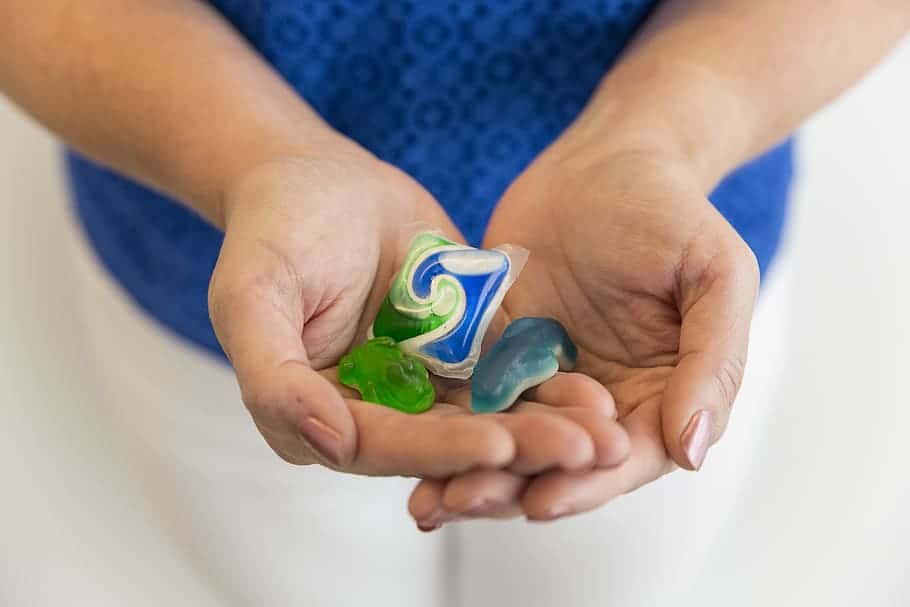 This can be a tall order if you don't know the expiration dates of the underlying products. And, one of the products whose expiration date has puzzled many is the laundry detergent.
Mostly, you won't see an expiry date on their labels, and this is confusing. So do they actually expire? Read on.
Types Of Laundry Detergent:
They're five types that have different reactions to time. So grouping them will make us understand their respective dates of going bad. Here we go.
Powdered Laundry Detergent
One thing to know is that the powdered laundry detergent doesn't expire, but breaks down with time. And, this is mostly true when the detergent is exposed to moisture. The detergent will get clumpy or cakey when it absorbs moisture. It's kind of deliquescent.
The moment your powdered detergent becomes clumpy or cakey, it's wise to throw it away. Otherwise, it will either damage your clothes or waste your time.
Powdered detergents will lose their original formula after an extended stay; thus, they won't make your clothes as clean as they were supposed to.
In fact, the clumpy and or cakey detergent will leave undesirable deposits on your clothes, the case being worse with the homemade types.
However, if it gets clumpy and the label still indicates that it's within the 'use by' date, simply shake it to break the clumps and carry on with washing your clothes.
The Liquid Laundry Detergent
While powdered laundry detergent is affected by moisture, the liquid type 'fears' extreme temperatures. Upon freezing or exposure to high temperatures, the detergent's ingredients will separate. After the separation, there may also be clumps in the bottle.
However, the clumps and separation of ingredients mean no harm in the short run, as a thorough shake can eliminate these clumps, and the detergent remains effective. The clumps may only mean harm when they clog washing machines. So avoid using them with the washing machines.
Most of the liquid detergents will have a "use by" date. Obey this date because, in around nine months to a year, the liquid detergent often becomes less effective.
Also, there is a homemade version of the liquid laundry detergent. Its case is different, as it doesn't have a mechanism of fighting back bacteria. Hence, they usually support the growth of mold within them after an extended stay. To avoid this, keep them off extreme temperatures.
Single-Dose Laundry Detergent Pods
These are usually made of polyvinyl, and they are susceptible to moisture — no wonder they're often kept safely in their air-tight containers. This hypersensitivity is the first problem.
If the tablets absorb any moisture within their containers, they'll come together then become impossible and dangerous to separate. Therefore, they'll become useless.
That said, it's essential to keep these tablets in air-tight containers, and in controlled temperatures. Also, you must observe their use-by dates. Otherwise, a standard period of validity is six months after purchase.
Bleaches
Bleaches are another form of laundry detergent, and their function is clear from their name. They also come in many forms that include the most common chlorine bleach, oxygen bleach, and other forms.
A rule of the thumb is using them not more than six months past their 'use by' or opening dates. Their effectiveness often goes down with time, especially the chlorine bleach.
Dryer Sheets
Dryer sheets are used in laundry machines to prevent static electricity build-up in the machines. They're also of two types; pre-moistened and dry. They never expire; neither do they go bad.
How To Keep The Laundry Detergent Valid And Fresh For Long:
There are conventional ways of keeping detergents active and fresh. We often ignore most of them, but I'll recite them here to remind you that they're still vital.
Store Them In Dry Places
You have possibly seen the "store in a cool, dry place" precautionary phrase on most products' labels. It's for your own good. Referring to my explanation of how some detergents above behave in the presence of moisture, it's a valid precaution.
Keep Them Tightly Closed, Away From Children
When tightly closed, the detergents can't be in contact with water to clump together or get cakey. Also, children won't be able to open them. Keeping them away from children can avoid many scenarios like getting lost and others.
Kept Within The Manufacturer's Containers
Apart from the containers helping you track the detergent's 'use by' date, they're the best storage for the detergents. Likewise, while buying the detergent, you also purchased the container, so you should keep them.
Remember To Close After Use
Closing the container within which your detergent is packed avoids many troubles like spilling, clumping due to exposure to moisture, and more. Just remember to close it after use, always.
Remember: all used detergent containers and gone-bad detergents should be disposed of according to specific instructions. You should share all excess detergent, almost exceeding the recommended periods above with others to avoid wastage.
Last but not least, don't use detergent containers for other purposes. Chemical reactions may occur, and this could lead to health issues.
The Bottom Line.
You now know that laundry detergents are of different types, and most of them do not go bad — they may only lose their effectiveness, and this happens after very long periods. The purpose of this was to help you stock appropriately.
However, I bet you won't stock a detergent for more than a year, so the six to eight months recommended above are sufficient for proper stocking.
Meanwhile, I wish you the best of luck in your shopping experience, pals.