Your oven shouldn't remind you of a crime scene every time you open it! Yes, you heard it right; those burnt-on residues, stubborn grease spots, and lingering food particles are not a foregone conclusion. They're the antagonists in your culinary story, but there's a hero waiting in the wings, ready to make your oven sparkle like new.
What's this magical solution? A steam cleaner.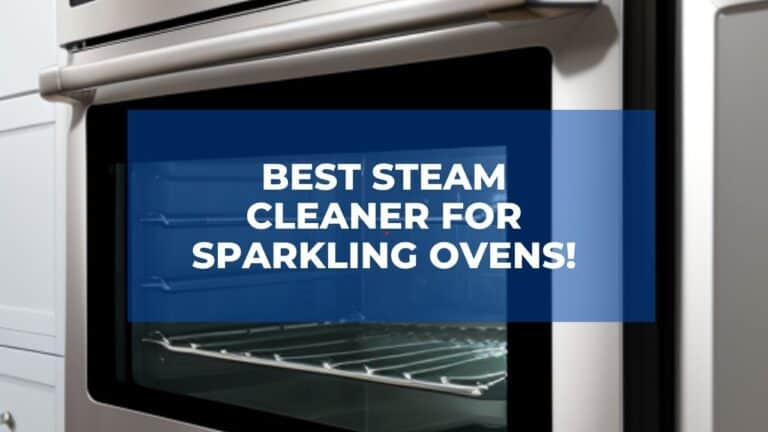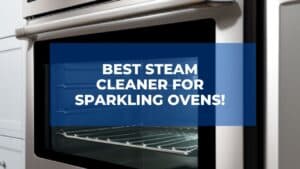 If you're tired of laboring with chemical sprays and endless scrubbing, then sit tight. We've got the ultimate guide to help you choose the best steam cleaner for ovens—one that will transform your kitchen nightmares into a clean, gleaming dream.
Best Steam Cleaners for Ovens
We know how frustrating it can be to try to clean your oven with traditional methods. That's why we've put together a list of the best steam cleaners for ovens. These products are designed to make oven cleaning a breeze, without the use of harsh chemicals. So, whether you're a professional chef or just someone who loves to cook, these steam cleaners will help keep your oven in top condition. Check out our top picks below.
When it comes to household cleaning, finding a tool that is both effective and versatile can feel like striking gold. The Bissell SteamShot Deluxe Hard Surface Steam Cleaner promises to be that gem, offering an easy solution for a range of hard surfaces, including kitchen countertops, bathroom tiles, and yes, even ovens! But how does it fare in real-world tests? This comprehensive review aims to find out.
What We Like
The steam cleaner is completely chemical-free, making it safe for use around kids and pets.
With 1000 watts of steam power, it can eliminate up to 99.9% of germs and bacteria from various hard surfaces.
The cleaner comes with 10 multi-surface tools, including a grout brush, window squeegee, and detail brush, making it versatile and useful for a variety of cleaning tasks.
What We Don't Like
The water tank is relatively small, so you may need to refill it frequently if you're cleaning a large area.
The cleaner takes about 30 seconds to heat up, which may be a bit longer than some users would like.
The bristles on the brushes may deform over time due to the combination of high heat and friction.
The Bissell SteamShot Deluxe Hard Surface Steam Cleaner lives up to its promise of delivering a powerful cleaning solution for a variety of hard surfaces. While its water tank capacity may not be ideal for bigger tasks, its quick heat-up time and effective performance make it a strong contender for anyone looking to make cleaning less of a chore and more of a triumph.
For those in search of an effective, versatile, and reasonably priced steam cleaner, especially for tasks like oven cleaning, the Bissell SteamShot Deluxe is definitely worth considering.
When it comes to household cleaning, heavy-duty tasks like scrubbing grime off floors, sanitizing bathroom tiles, and rejuvenating grimy ovens call for more than just elbow grease.
Enter the McCulloch MC1275 Heavy-Duty Steam Cleaner—a machine designed to tackle these challenges head-on. But does it really live up to its "heavy-duty" title? Read on to find out everything you need to know about this robust steam cleaner.
What We Like
Large water tank for extended use
Variable steam control for customized cleaning
Wide array of attachments for diverse cleaning needs
Exceptional performance on hard surfaces
Capable of sanitizing and killing 99.9% of common household germs
What We Don't Like
Takes about 8 minutes to heat up, which might be longer than some users prefer
The unit is somewhat bulky, making storage a consideration
May not be suitable for delicate fabrics or surfaces
The McCulloch MC1275 Heavy-Duty Steam Cleaner emerges as a formidable contender in the realm of home cleaning solutions. Its large water tank, variable steam control, and a variety of attachments make it an excellent choice for those looking to tackle diverse heavy-duty cleaning tasks. Although it has a few drawbacks, like the heat-up time and its bulkiness, these are minor compared to its overall efficacy and versatility.
If you've got a wide array of cleaning challenges that you want to address efficiently and effectively, adding the McCulloch MC1275 to your cleaning arsenal would be a wise investment.
Clean like a pro, because you now know how to go heavy-duty!
A cleaning tool can either be your best ally or your worst nightmare, depending on its efficiency, usability, and versatility. Among the myriad options on the market, the Wagner Spraytech aims to be a game-changer.
It comes with a promise to not just clean but to deep clean on demand. But how does it hold up under the scrutiny of daily, real-world use? Let's delve into the nitty-gritty of this intriguing product.
What We Like
On-demand steam control for tailored cleaning
Chemical-free and eco-friendly
Two steam modes offer greater flexibility
Large water tank for extended cleaning sessions
Comes with multiple attachments for diverse cleaning needs
What We Don't Like
Heat-up time is longer than some might prefer
It can be a bit bulky, posing some storage challenges
Some users may find the pressure inadequate for extremely tough grime
The Wagner Spraytech Steam Cleaner is more than just another cleaning tool—it's an on-demand cleaning solution. It combines practicality with functionality, offering customizable steam options and a range of attachments. While it does have a few drawbacks, such as the heat-up time and bulkiness, these are small prices to pay for the overall value it brings to your cleaning regimen.
If you're in the market for a versatile, efficient, and eco-friendly cleaner that gives you control, then the Wagner Spraytech should certainly be on your shortlist.
When it comes to cleaning, the word "handheld" often raises eyebrows. How much power can such a compact device possibly offer? McCulloch's MC1230 Handheld Steam Cleaner seeks to answer this question by offering a small but mighty cleaning tool, packed with features you'd typically expect in bigger, bulkier machines. Intrigued? Here's a detailed review that puts this little wonder under the microscope.
If you're looking for a versatile and efficient steam cleaner, the McCulloch MC1230 Handheld Steam Cleaner is a great option.
What We Like
Compact and portable design for easy maneuverability
Quick heat-up time for near-instant cleaning
Lockable steam trigger for continuous use
Comes with 11 attachments for various cleaning needs
Lightweight and easy to use
What We Don't Like
The small water tank requires frequent refills for bigger jobs
While good for many surfaces, may lack the power needed for extremely tough stains
The length of the power cord may limit range unless an extension cord is used
The McCulloch Steam Cleaner defies the stereotype that "bigger is always better." Its compact design is its greatest asset, allowing you to clean spaces you wouldn't have thought possible with a steam cleaner. While it does have its limitations—such as a small water tank and less power compared to larger units—its advantages make it an excellent choice for quick, everyday cleaning tasks.
When it comes to household cleaning, especially in a space as frequently used as the kitchen, products that are efficient, easy to use, and add a touch of humor are always a welcome addition.
The Angry Mom Microwave Cleaner aims to check all those boxes, and you can't help but smile at its whimsical design. However, the question remains: does it perform as well as it entertains? Let's dive deep into this intriguing product to find out.
What We Like
The Angry Mom Microwave Cleaner is made of durable, non-toxic material that won't release harmful substances when exposed to high temperatures.
The steam that comes out of Angry Mom's head softens dirt and stains, making it easier to clean your microwave.
With Angry Mom, you can clean your microwave in just 5-7 minutes, cutting your cleaning time in half.
What We Don't Like
The Angry Mom Microwave Cleaner may not be as effective on heavily soiled microwaves.
Some users have reported issues with the color of the body, making it difficult to see fill lines.
Angry Mom may not be as effective as other steam cleaners on the market.
While it may appear gimmicky at first glance, the Angry Mom Microwave Cleaner surprises users with its efficacy. It's an easy, quick, and chemical-free way to maintain a cleaner microwave. Despite its small size and somewhat niche use case, its pros clearly outweigh its cons. It's not just a novelty item but a functional and effective cleaning tool that adds a dash of fun to an otherwise tedious chore.
If you're tired of scrubbing away stubborn microwave stains or just need a chuckle as you go about your daily cleaning routine, Angry Mom is definitely worth a try. Get ready to make your microwave sparkle, and perhaps share a laugh or two along the way!
Cleaning can be a daunting task, especially when you need different tools for various surfaces and spaces. Enter the BLACK+DECKER 7in1 Steam Mop with SteamGlove Handheld Steamer, a product that promises to be your all-in-one cleaning solution. But can one device really replace a cabinet full of cleaning products? Let's dive into its features, performance, and overall user experience to find out.
What We Like
7-in-1 versatility offers comprehensive cleaning solutions
The detachable SteamGlove handheld steamer extends its usability
Quick 20-second heat-up time
Chemical-free cleaning, safe for kids and pets
Comes with various attachments for multi-surface cleaning
What We Don't Like
The large-capacity tank can make the steam cleaner a bit heavy.
The steam cleaner may not be suitable for use on delicate surfaces.
The cord may be a bit short for larger rooms.
The BLACK+DECKER 7in1 Steam Mop with SteamGlove Handheld Steamer lives up to its promise of versatility and performance. It scores high in ease of use, quick heat-up time, and especially in its 7-in-1 capability. While it may not entirely replace specialized cleaning tools for every task, it gets impressively close.
If you're looking to reduce the clutter in your cleaning closet without compromising on cleanliness, this device is an excellent choice. It's an all-around performer that tackles a variety of cleaning tasks with relative ease and efficiency.
Enter the BISSELL Powerfresh Slim Steam Mop—an unassuming name for a product that promises to deliver both versatility and compact design. But does it live up to the hype? Let's examine its features, pros, cons, and user experience to find out.
What We Like
The 3-in-1 design allows you to use it as an upright steam mop, an extended reach surface cleaner, and a portable handheld steam cleaner.
Safe to use on all sealed hard floors, eliminating 99.9 percent of germs and bacteria with the natural power of steam.
The extension tube and extra-long 25 ft power cord make it easy to reach difficult areas in your home.
What We Don't Like
The water tank is relatively small, so you may need to refill it frequently.
The handheld steam cleaner may not be as powerful as standalone models.
The mop pad can be difficult to attach and remove.
The BISSELL Powerfresh Slim Steam Mop is a stellar addition to any home looking for a flexible, easy-to-store cleaning device. Its slim design does not sacrifice power, and its 3-in-1 versatility makes it an invaluable tool for day-to-day cleaning tasks. While it may have limitations in water capacity and deep-cleaning stubborn stains, it is a highly capable unit for most typical home cleaning needs.
If you want a device that can adapt to different cleaning tasks without taking up too much space, this might just be the steam mop for you. Say goodbye to a closet full of specialized cleaners, and hello to a streamlined, effective cleaning routine.
The Bissell Power Steamer Heavy Duty 3-in-1 Steam Mop and Handheld SteamShot takes it a step further by promising not just one but three ways to steam-clean your home. Could this be the all-in-one solution that simplifies your cleaning routine? Let's delve into the specifics to find out.
What We Like
The high-temperature steam blasts away dirt, grime, grease, stains, and mold across a wide variety of surfaces.
The 3-in-1 design allows you to use it as an upright steam cleaner, extended reach steam cleaner, and handheld steam cleaner.
The chemical-free cleaning sanitizes with the power of steam and eliminates 99.9% of germs and bacteria.
What We Don't Like
The unit is a bit heavy, which may make it difficult for some users to maneuver.
The water tank is on the small side, so you may need to refill it frequently.
The cord could be longer for easier reach.
The Bissell Power Steamer Heavy Duty 3-in-1 Steam Mop and Handheld SteamShot offers a powerful and versatile approach to household cleaning. It's a multi-functional device that replaces several tools in your cleaning arsenal. While it may not be perfect, its pros certainly outweigh its cons, making it a worthy investment for anyone keen on a cleaner, healthier home.
If you're looking to upgrade your cleaning game and wish for a single device that can handle a multitude of tasks, then this Bissell Power Steamer is worth considering.
Buying Guide: How to Choose the Best Steam Cleaner for Ovens
Sparkling ovens are not just a delight to look at; they are also more efficient and make your food taste better. However, the stubborn grime and grease that ovens accumulate can be hard to tackle. Traditional oven cleaners can be full of harmful chemicals, but steam cleaning offers a non-toxic and effective alternative.
How do you pick the best steam cleaner for ovens, though? In this buying guide, we'll walk you through the essential considerations to make an informed decision.
Power and Temperatur
When considering a steam cleaner for your oven, it's crucial to focus on two critical elements: power and temperature. These parameters dictate how well your appliance will perform when faced with caked-on grime, stubborn grease, and elusive germs. Let's dive deeper into why these two factors are pivotal and what to look for when making a purchase.
Why are Power and Temperature Important?
Efficiency: High wattage and temperature levels ensure that the cleaner can produce steam at a faster rate, making your cleaning tasks quicker and more efficient.
Deep Cleaning: More potent steam and higher temperature mean the steam penetrates deeply into surfaces, attacking grime and bacteria at their core.
Versatility: A powerful steam cleaner with a broad temperature range can tackle various cleaning tasks, not just oven cleaning.
Understanding Wattage
The power of a steam cleaner is typically measured in watts (W). A higher wattage generally means that the appliance can heat water more rapidly, thereby producing steam quicker.
Low-Power Models: These usually have wattage ranging from 800W to 1000W. They are suitable for lighter tasks but may not offer the deep cleaning your oven may require.
High-Power Models: With wattage above 1000W, these models provide the punch required to remove stubborn grease and grime. They are more suitable for comprehensive oven cleaning.
Temperature Range
Temperature is another essential factor, as higher temperatures often provide more effective cleaning.
Low-Temperature Models: Operating at around 200°F, these are generally adequate for light cleaning but may not be effective for tough grease.
High-Temperature Models: Steam cleaners that operate at temperatures of 212°F or above are effective for more challenging tasks, like disinfecting and removing embedded grime.
Combining Power and Temperature
It's important to find a steam cleaner that offers a good balance of both power and temperature. If one is high but the other is low, you may not get the desired cleaning results. Look for models that offer at least 1000W of power and can heat steam to above 200°F for an effective oven cleaning experience.
Power and temperature are more than just numbers on a spec sheet; they are indicative of how well a steam cleaner will perform in real-world tasks. When considering a steam cleaner for your oven, opting for a model that excels in both these aspects will ensure that you are investing in an appliance that is both efficient and effective.
By understanding the significance of power and temperature, you can choose a steam cleaner that will not only leave your oven sparkling but also stand up to the demands of multiple cleaning tasks around your home.
Capacity: The Unsung Hero of Prolonged, Effective Cleaning
When you're taking on the Herculean task of battling oven grime, you don't want to be held back by the frequent need to refill your steam cleaner's water tank. That's why the capacity of the steam cleaner's water tank is such a crucial feature to consider.
Let's explore why capacity matters, what options are out there, and how to choose the one that best suits your needs.
Why is Capacity Important?
Duration of Cleaning: A larger water tank will enable a longer cleaning session, reducing the number of interruptions for refilling.
Convenience: If you're cleaning multiple ovens or tackling various cleaning tasks, a high-capacity steam cleaner reduces the hassle of constant refills.
Steam Consistency: Larger tanks often allow for a more consistent steam output, leading to more effective cleaning.
What Capacities Are Generally Available?
Small Tanks (Below 1 Liter): These are generally suitable for quick, light tasks but would need frequent refilling for something as demanding as oven cleaning.
Medium Tanks (1-2 Liters): These offer a balanced approach, suitable for most household cleaning tasks including ovens.
Large Tanks (Above 2 Liters): Best suited for heavy-duty cleaning, these tanks can produce steam for an extended period, reducing refill interruptions.
Continuous Steam Feature
Some steam cleaners offer a "Continuous Steam" feature, which means that they can produce a consistent flow of steam without requiring you to keep pressing a button. This feature, when combined with a large tank, offers an ideal solution for prolonged cleaning tasks like oven degreasing.
Trade-offs
While a larger tank allows for extended cleaning sessions, it will also contribute to the overall weight of the steam cleaner. So, there's a trade-off between portability and capacity. Consider your specific needs and how you plan to use the steam cleaner to make the best choice.
Tips for Maximizing Capacity Efficiency
Use variable steam control settings if available. Lowering the steam output for lighter tasks will help you conserve water.
Plan your cleaning tasks in a way that you tackle the most stubborn grime first while the tank is full, ensuring maximum steam pressure and effectiveness.
Understanding your cleaning needs will help you pick the perfect capacity for your steam cleaner. Whether you're a casual cleaner or a heavy-duty user, there's a steam cleaner out there with a tank size that's a perfect match for you.
In the grand scheme of things, capacity may not seem as glamorous as power or temperature, but it's a practical aspect that can significantly impact your cleaning experience. Therefore, it's wise to consider capacity as a major factor in your decision-making process.
Versatility and Attachments: The Swiss Army Knife of Cleaning Solutions
We live in an era where multifunctionality isn't just an added bonus; it's almost an expectation. Whether it's our smartphones or multitools, we value devices that can do more than one thing—and do them well. The same principle applies to steam cleaners.
By opting for a versatile model armed with a range of attachments, you'll not only get the best steam cleaner for ovens but a comprehensive cleaning solution for your entire home.
Why is Versatility Important?
Broad Scope of Use: A versatile steam cleaner isn't limited to cleaning ovens. Use it on grout, tiles, upholstery, and even car interiors.
Economical: Buying a single device that can handle multiple tasks is more cost-effective than purchasing multiple specialized cleaning appliances.
Space-Saving: Owning a multifunctional appliance means you don't have to store multiple gadgets, thus saving valuable storage space.
Types of Attachments and Their Uses
Brushes: Great for scrubbing away stubborn grime and grease. Some models offer different brush types like nylon or brass for different surfaces.
Squeegees: Useful for cleaning glass surfaces and windows, squeegees leave a streak-free finish.
Scrub Pads: These are ideal for heavy-duty scrubbing tasks like cleaning oven interiors.
Crevice Tools: Perfect for reaching into those hard-to-access areas like corners and seams.
Jet Nozzles: Provide a focused blast of steam for tackling particularly stubborn spots.
Handheld Versus Upright Models
Many steam cleaners come as 2-in-1 models that can function both as an upright steam mop and as a handheld cleaner. A handheld option can be particularly useful for cleaning ovens, as it offers better maneuverability and access to tight spots.
Assessing Your Needs
Before purchasing, make a list of all the cleaning tasks you hope to accomplish with your steam cleaner. This will help you identify the types of attachments that will be most beneficial for you. Moreover, assess whether a handheld option is crucial for your needs or if an upright model will suffice.
Additional Features for Versatility
Adjustable Steam Control: Allows you to customize steam output based on the task at hand.
Extension Wands: Provide extra reach for tasks like cleaning curtains or high corners.
Microfiber Pads: Useful for mopping floors and other flat surfaces.
The key to a worthwhile investment is finding a steam cleaner that offers the perfect balance of power, capacity, and versatility. A device equipped with various attachments not only becomes a multi-use tool but also enables more effective cleaning by targeting specific needs and surfaces.
So, as you search for the best steam cleaner for ovens, don't underestimate the value of versatility and attachments. They could be the game-changers that elevate your cleaning regimen to a professional level.
Usability: Making Cleaning a Breeze, Not a Chore
Usability in a steam cleaner is akin to the ease of use in any tool or gadget—it can either make the experience enjoyable or turn it into an uphill struggle. While aspects like power, temperature, and versatility are indeed important, the user experience often hinges on how user-friendly the device is.
Below, we delve into the key elements that determine the usability of a steam cleaner for ovens and why you should give this feature due attention.
Why is Usability Important?
Ease of Use: The more intuitive the device, the less time you'll spend wrestling with controls and more time actually cleaning.
Safety: A user-friendly steam cleaner often comes with safety features that prevent accidental burns or spills.
Efficiency: Good usability allows you to get the most out of your device's capabilities, ensuring that you clean more effectively in less time.
Key Usability Features to Look For
Simple Controls: Look for models with clearly labeled buttons and straightforward settings. A digital display can be a bonus for more precise control.
Lightweight Design: The lighter the device, the easier it is to maneuver, especially when cleaning hard-to-reach areas in ovens.
Ergonomic Handles: These provide a comfortable grip, reducing fatigue during extended use.
Quick Heat-Up Time: Waiting for your steam cleaner to be ready can be frustrating. Models with a quick heat-up time improve the overall user experience.
Easy to Refill: Look for models with a removable water tank or an easy-fill opening to make refilling a hassle-free process.
The Role of Cord Length and Hose Flexibility
The length of the power cord and the flexibility of the hose can significantly impact usability. A longer cord means you can move more freely, while a flexible hose allows for easier maneuverability in tight spaces like the oven interior.
Usability for Maintenance
Easy to Clean: Some steam cleaner models come with a self-cleaning feature or have components that are dishwasher-safe.
Storage Solutions: Built-in storage compartments for attachments and cords can make storing the device more convenient.
User Manual: A detailed yet straightforward user manual can be a lifesaver, especially for troubleshooting and maintenance.
When shopping for the best steam cleaner for ovens, you're investing not just in a tool but in an experience. The more user-friendly the device, the more likely you are to use it regularly and get your money's worth.
In essence, usability is not merely an added luxury; it's an integral aspect that complements the device's performance features to create a well-rounded, effective cleaning solution.
Durability and Warranty: The Twin Pillars of Long-Term Value
Investing in a steam cleaner isn't just about the upfront cost; it's also about how long the device will last and how well it's backed by the manufacturer. Durability and warranty are two facets that can often be overlooked in the frenzy to focus on power, versatility, and usability. However, they play a crucial role in ensuring that your investment is sound for the long haul.
Why is Durability Important?
Long-Term Savings: A durable steam cleaner means you won't have to replace the device frequently, thus saving you money in the long run.
Reliability: A well-built machine is less likely to break down, ensuring that it's available whenever you need it.
Enhanced Performance: Durable materials and construction often correlate with better performance and more effective cleaning.
Features Indicating Durability
Quality of Materials: Stainless steel and high-grade plastic components are usually more durable than cheap plastics.
Brand Reputation: Established brands are more likely to offer durable products as they have a reputation to uphold.
Customer Reviews: Always check what existing users have to say about the product's longevity and build quality.
The Importance of Warranty
Peace of Mind: A good warranty means the manufacturer stands behind their product, which can be reassuring for the consumer.
Cost Savings: Should the device malfunction due to manufacturing defects, a warranty can save you the cost of repair or replacement.
Indication of Quality: Generally, a longer warranty period suggests the manufacturer has confidence in the product's durability.
When you're choosing the best steam cleaner for ovens, or for any other task, durability and warranty should not be sidelined. They directly impact the value you get from your investment, both in terms of performance and peace of mind. By focusing on these aspects, you ensure that you're not just buying a tool for today, but a reliable companion for many cleanings to come.
Additional Features to Consider
Water Level Indicator: A simple yet helpful feature that lets you know when it's time to refill the tank.
Auto Shut-Off: Provides an extra layer of safety by automatically turning off the unit when water levels are too low.
Steam Lock: Allows for continuous steam without having to hold down a trigger, which can be a huge relief during extended cleaning sessions.
Built-In Water Softener: Helps prevent mineral build-up, which can prolong the life of the machine.
LED Lights: These can illuminate dark spaces, making it easier to spot and clean grime or stains that might otherwise be missed.
Variable Steam Control: While many units have this as a standard feature, the precision and ease of control can vary and are worth considering.
On-Board Storage: Convenient compartments for storing attachments or even a retractable cord can make storage and accessibility a breeze.
App Integration and Smart Features: In this age of smart homes, some high-end steam cleaners offer app integration. This can include features like usage tracking, maintenance reminders, or even remote control via your smartphone.
Energy Efficiency: Eco-friendly models not only consume less electricity but also produce steam more efficiently, saving both your wallet and the environment.
Portability Features: Look for models that have wheels, handles, or shoulder straps to make moving the unit from one location to another more convenient.
Noise Level: Although steam cleaners aren't generally very loud, the noise level could be a concern if you prefer a quieter cleaning experience. Some models are designed to operate more quietly than others.
Frequently Asked Questions:
Are steam cleaners safe for all types of ovens?
Steam cleaners are generally safe for most oven types, including electric, gas, and convection ovens. However, always check the manufacturer's guidelines or consult with the oven's manufacturer to ensure compatibility.
How do steam cleaners compare to chemical oven cleaners?
Steam cleaners are an eco-friendly alternative to chemical oven cleaners, which can contain harsh and toxic chemicals. Steam cleaning is also more efficient at reaching hard-to-access areas and leaves no chemical residue behind.
What's the best way to use a steam cleaner on an oven?
First, remove any loose debris from the oven. Fill the steam cleaner's water tank and heat it up. Apply steam uniformly across the oven's interior, focusing on areas with stubborn stains. Use the cleaner's attachments like brushes to scrub away grime. Finally, wipe down with a microfiber cloth.
How often should I steam clean my oven?
It's generally recommended to clean your oven every 3-6 months, but this could vary depending on usage.
Can I use a steam cleaner for other kitchen appliances?
Yes, steam cleaners are versatile and can be used on other appliances like microwaves, stovetops, and grills.
Are there any safety precautions to take when using a steam cleaner on an oven?
Yes, always read the user manual for safety guidelines. Make sure to use heat-resistant gloves and keep children and pets away during the cleaning process.
Can I use any water in a steam cleaner?
It's recommended to use distilled water in steam cleaners to minimize limescale build-up. Check your manufacturer's guidelines for specific recommendations.
Popular Brands
Bissell: Known for its wide range of home cleaning solutions, Bissell offers steam cleaners that are efficient, durable, and user-friendly.
Shark: Shark cleaners often come with patented technologies and advanced features like electronic steam control and dual-sided cleaning pads.
McCulloch: If heavy-duty cleaning is what you're after, McCulloch is one of the best in the market. They offer high-temperature steam cleaners designed for the toughest of grime.
Kärcher: A brand that's almost synonymous with high-pressure cleaners, Kärcher's steam cleaners are robust and highly effective.
BLACK+DECKER: Known for their versatility and affordability, BLACK+DECKER steam cleaners are popular for those on a budget without wanting to compromise on features.
Dyson: While more famous for their vacuum cleaners, Dyson has ventured into the steam cleaner market with the same dedication to innovation and quality.
Wagner Spraytech: Specializing in paint sprayers, Wagner has utilized its fine mist technology to produce effective steam cleaners, particularly useful for ovens and grills.
Conclusion
Choosing the best steam cleaner for ovens doesn't have to be a convoluted puzzle. From assessing the device's power and temperature to understanding its capacity, durability, and additional features, this comprehensive guide has laid down all the crucial factors you need to consider.
Whether you are swayed by the innovation of top brands like Bissell and Shark, or you find value in additional features such as auto shut-off and water level indicators, the end goal is the same: an oven that gleams as if it just rolled off the showroom floor.
Your oven is the heart of your kitchen; it's where meals that nourish your family and friends are born. But like any heart, it needs a good cleaning to function at its best. A steam cleaner can be that lifeline, transforming a grimy oven into a shining masterpiece in less time and with less effort than you might imagine.
So, are you ready to make a meaningful investment that brings back the sparkle to your oven and, by extension, your meals? The perfect steam cleaner is out there, waiting to make your life easier and your cooking space brighter.
Don't let another dinner be baked, broiled, or roasted in a less-than-pristine oven. Take action now! Click the links Above to explore the top-rated steam cleaners and make your oven—and your life—a little more sparkling today!