You may be going through the best time of your life but a simple stain on your attire can turn your day upside down. As cleaning your room when you are feeling down can bring a bit of therapeutic solace, the opposite can happen when you stain your clothes. But, you can again reverse the effect by removing the stain.
What a cycle!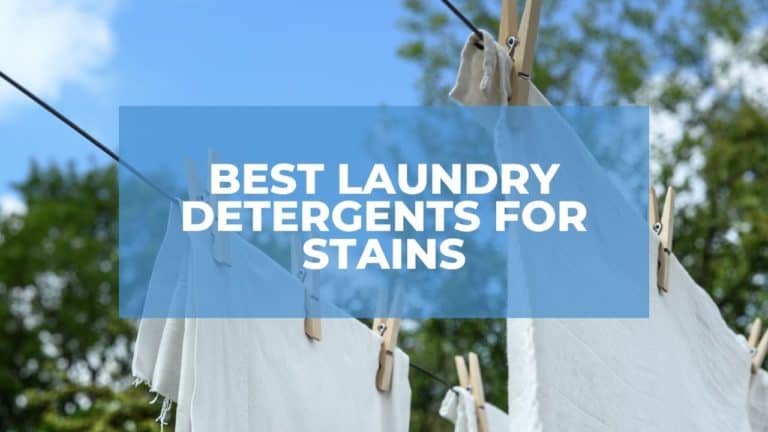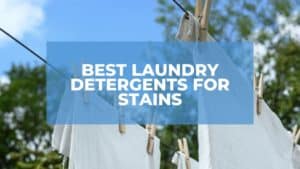 However, the frustration hits you when you cannot remove the stain from your favorite cloth, or even just a piece of towel you never show anyone. The key here is to know that it is not just what you could not do but also what your detergent is incapable of doing.
Apparently, not all detergents can remove stains. You can employ all the DIY techniques out there to remove the stain but if your detergent is not up for it then nothing can help you.
This is why you have to find the best laundry detergents for stains. They will make you feel so good with their results after your hard work that you will never be afraid of stains again.
But, in order to find them, you need guidance and that is what we will provide you with here.
IN A HURRY? HERE'S OUR TOP PICKS…
Laundry Detergents For Stains Reviews
The problem you may face with a stain removing detergent is that it may remove color as well. Keeping this issue in mind, Tide created this 4 in 1 HE Turbo pod detergent that not only removes stains but also protects the color of the cloth.
Therefore, this detergent does not only cause destruction but also protects. In fact, it has enzymes in it that eases up the stain removal process.
Now, the question is how well does it do what it promises to do?
The answer to that is- it delivers just what it says it will!
Just what you expect from a renowned brand like Tide. However, this 61 pack tide has pods in it. While it is extremely easy to use, it won't let you be flexible with the amount you use.
Apart from that, it is High Efficient so you can use it with any washing machine out there.
What you may not like about this detergent is the smell it leaves behind. Some people find the smell too strong and some find it too horrible.
So, the message is clear, this detergent does not have the best smell.
The pods come in quite an easy to retrieve package so you won't have any kind of trouble there. Apart from that, you can address the smell problem by using a fabric softener. Apparently, the softener can bring out the smell of the detergent in a much better way.
When it comes to price, this detergent is reasonable. So, you can rely on it for daily use. It can be the detergent you turn to as a family asset.
Thumbs Up For
It contains the necessary enzymes to remove stains.
The stain removal property is not too rough for the fabrics.
It protects the color of the fabric too.
It cleans really well.
Quite a reasonable price point.
Very easy to use.
High efficient- suitable for most washing machines and also uses less water.
Thumbs Down For
The smell is not very appealing.
You cannot be very versatile with the amount of detergent you use.
If you are concerned with allergy caused by detergents then you can consider this Puracy Natural Liquid detergent.
Apparently, it is hypoallergenic. And, the fact that you can use it to clean cloth diapers is proof that this is true to its nature and will not cause allergies.
Before exposing your baby or anyone with allergies to this detergent it is better to know more about it. Apparently, this detergent has all-natural ingredients in it- all plant-based. It does not contain any sulfates, bleach, or any other toxic chemicals that may cause any kind of harm.
If it does not contain anything so harsh, how can it remove stains?- With its plant-based enzymes and natural cleansers.
Get the right amount of all that in one bottle and you get the Puracy detergent. However, the detergent is so good at doing it the job that it sometimes dries out the fabric a bit too much and leaves soft fabrics hard.
Other than that, this detergent is capable of handling quite a lot of clothes in one go. In fact, it can handle around 96 High Efficient loads in a washing machine. It is quite concentrated and very easy to use.
Apparently, it comes with a pump that does not let the detergent drip. Therefore, you do not have to do much measuring, all you have to do is pump it for each use. The detergent does last a while.
Now, this one actually is scented. For those looking for natural detergents without any smell, this may not be the one. Some people may find the smell overwhelming if they do not want a detergent that smells.
Apart from that, this is a great detergent.
Thumbs Up For
Completely natural detergent.
It is hypoallergenic- it even safe for babies with allergies.
It does not contain any bleach, sulfates, or toxic chemicals.
Quite good at removing stains with plant-based enzymes.
It clans really well.
Lasts quite a while.
Concentrated and dissolves easily.
Very easy to use- all thanks to the design of the bottle.
Reasonable price.
Thumbs Down For
It may make soft fabrics hard.
People may not like the smell it leaves.
Looking for detergents that will give all your white and light clothes a shine? Then, this OxiClean detergent may be the one you are looking for.
Apparently, it comes with a color brightener in it which mainly focuses on making your clothes and fabrics look brighter.
Apparently, the color brightener reaches deep in the fabric and makes any color look brighter. So, you will be left with vibrant and new-looking clothes. When it comes to stains, this detergent does a great job- but only when you use it in the right way.
You will quickly figure that this detergent is not very effective in cold or normal water. If you want to remove stains then you will need hot water and also a bulk that is not too big.
Moreover, if the stain is too deep, you may consider pre-treating the fabric or the stained area with the detergent.
Then, the active oxygen power that this detergent uses to remove stains will reach deep into the fabric and slowly deal with each part of the stain to loosen and get rid of it.
However, keep in mind that this is the case with stains only, for clothes that do not have stains, cleaning with this detergent is much more effortless.
Since it is in the form of pods, it is quite easy to use. One thing about this detergent is that it is not completely natural or hypoallergenic. Therefore, if you have any kind of allergy, this detergent may not be the best choice for you.
It has a scent so if you like scents then you can consider this one. Apart from that, it lasts a while and provides good enough value for the money to use it regularly.
Thumbs Up For
It removes stains reaching deep into teh fabric using oxygen power.
You can rely on it to make your clothes look brighter with its color brightener property.
It leaves a good smell behind.
Very easy to clean with it.
Good value for the price and it lasts a while too.
Thumbs Down For
Not hypoallergenic so it may not be the best choice for people with allergies.
It requires you to use it correctly to get the best results.
If you are looking for an option that will help you go easy on the environment then you can consider this Dropps Stain and odor laundry detergent pack. It is capable of doing quite a lot for your clothes. In fact, it is a four in one detergent- it works as a detergent, stain remover, color brightener, and a long-lasting freshener.
So, you could not possibly want more from a detergent. Apparently, it is a detergent that only uses all-natural ingredients in it. In fact, all the ingredients are plant-based and use nothing that I toxic or could cause allergies.
Therefore, if you are allergic to anything, this detergent will not cause any! As this detergent arrives in the form of pods, it is very easy to use. However, once you are done washing the clothes you may notice recipients stuck in the detergent chamber- but that is not hard to clean.
Also, it is compatible with most washing machines. While it does not use any artificial scent, it does have a scent. So, if you are looking for a detergent with no scent, this is not the one despite it having a very light scent.
As for stain removal, while it does clean well, it is not among the best stain removing detergents. However, it does brighten up the clothes really well. You will notice fresher clothes and older clothes that look even whiter.
What you will love about this detergent is that it comes in a bio-degradable package and it is made in a way that is quite an environment friendly causing no harm anywhere. Therefore, you can rely on the goodwill of the company.
For the number of pods you get at the price this detergent comes at and the time it lasts, you get quite a good value from it.
Thumbs Up For
Works in four ways- clean as a detergent, remove stains, brightens the color, and gives a long-lasting freshness.
Very easy to use because of the pod form.
Good in number and lasts a while.
Effective in cleaning- efficient too.
Good value for the price.
The completely eco-friendly and biodegradable build of packages.
Compatible with most washing machines.
Thumbs Down For
It does have a scent despite stating it does not.
Not the best at removing stains.
If you are looking for a detergent that will not let you worry about the temperature of the water then the Persil ProClean laundry detergent may be what you are looking for.
Apparently, this is a detergent that is meant to work in cold water as well. Furthermore, it does all the things you want a stain removing detergent to do well.
In fact, each of the discs of this detergent contains ingredients to deliver four things to you- stain removal, fiber care, long-lasting freshness, and a deep clean detergent. Therefore, this detergent will not disappoint you when it comes to cleaning. It reaches deep and cleans deeply as well.
One great thing about this detergent is that no matter what stain you have to clean with and no matter how strong the detergent is, the fabric will remain soft after wash. The detergent will not dry the fabric out.
Now, what you may not like about this detergent is that it has quite a strong smell. If you do not want a scent on your clothes then this detergent will disappoint you.
Other than that, although it works in cold water most of the time, at times, it may not dissolve well in any water- this includes even hot water. There may be specific problems with certain batches.
Apart from all that, this is a detergent that will last a while and it cleans a lot of clothes in one go. However, it may not offer the best value among the other detergents we reviewed.
Thumbs Up For
It does everything quite well from cleaning to stain removal.
It has a strong scent that lasts for quite a while.
You can rely on it to keep the fabric in its best form- soft.
It offers good enough value for the price and handles a good amount of clothes when washing.
You can use this detergent with any water- cold or hot.
It is compatible with any washing machine too.
Thumbs Down For
You may not like the strong scent.
It may not even dissolve in hot water at times.
If you want the detergent to last a long time keeping it very economical for you then you can rely on this Excelsior laundry detergent.
It comes in the form of a spray and it is so concentrated that you won't need a lot to clean a lot of clothes. Just a small amount will be good enough for you to clean loads of clothes.
That is particularly where its value lies. Furthermore, it is quite good at cleaning as well. In fact, it will remove the stains well- any kind. What it uses to remove the stans are enzymes- so you will find it quite effective.
Furthermore, it does not use any toxic chemicals like phosphates and others. Thus, you can consider it quite safe for use as well. It won't give you allergies. So, it is something you can use even if you have a babywearing the clothes you wash using this detergent.
Now, this detergent does have its scent. For those who do not love scents, do not run away yet. Apparently, the scent that this detergent comes with is not that long-lasting neither strong. Those who used this product often sniffed quite hard to find a bit of the scent that this detergent promises to leave on the clothes.
Apart from that, while spraying the detergent is quite an easy way to use it, the package or the container is often not built with the best quality.
You may find the detergent leaking in the package or the spray not working properly. Therefore, check well when you receive the product.
When it comes to price, this spray will provide good value, lasting long and washing a lot.
Thumbs Up For
You need a very small amount of this detergent to clean loads of clothes.
It is very easy to use- just spray.
You will find it compatible with most washing machines.
It cleans really well and removes stains well too.
It does not harm the fabric.
Quite safe for use as it does not contain any harmful toxins or chemicals.
Good value for the money.
Thumbs Down For
The scent is not very long-lasting or strong.
The package is not of the best quality.
Best Laundry Detergents For Stains: The Buying Guide
While there isn't a lot to know about detergents, you have to know the few basics to identify the detergents that will suit you and your purpose.
The Form Of The Detergent
You are already familiar with the various forms of detergent. What you may not be familiar with is what each of them brings to the table. Yes, the form of the detergent also affects how these detergents deal with stains. So, let's get to know them.
Liquid Detergents:
These are undoubtedly the most common form available right now. They are easy to use, clean a lot of clothes in one go. You do not even have to measure them much as the amount is pre-specified.
However, the problem with them is that if you use too much of them, you may find their residue on the clothes you wash. Apart from that, they are not the best at removing stains. As you can call them a bit soft.
Powder Detergents:
If you are looking for the oldest form of detergents then the powder is probably the one. Apparently, you will either find them in packets or in buckets. Now, the main benefit they offer is that you can control the amount of it you require. For example, if you are washing a fabric that is rough then you can use more powder.
Moreover, this is probably the best form of detergent if you are looking to remove stains. The rough texture and nature make them more effective against soil, mud, stains, etc. Also, they are cheaper in price than others.
Pods:
Pods are the form you will require if you are planning one-time use. They come in the form of candy-like small things. Now, the problem with pods is that you cannot control the amount you use them in- what it offers, you just accept it.
Another thing about pods is that they often do not look like soaps or detergents- which can make children think they are candies and expose them to harm. Apart from that, they are more expensive than other forms of detergents.
Now, which one you choose is up to you. Since we are talking about detergents that remove stains- powder would be the ideal choice.
The Type Of Detergent
Yes, there are various types of detergent and you will usually find the typewritten on the packet they come in. Let's explore them.
High-Efficiency Detergents (HE):
As the name suggests, these detergents are highly efficient. Now, how can a detergent be highly efficient?
By using less water yet providing clean clothes. If you are using a washing machine to clean the clothes, you may as well want to check around the washing machine to find anything like "High Efficiency" written. Because some washing machines only work with high-efficiency detergents.
Cold Water Detergents:
Do you use hot water to clean your clothes and does that increase your monthly bills?
Then, you may be looking for cold-water detergents that work really well in cold water. While powders are not the best at dissolving in water, liquid detergents are.
So, if you have easy access to cold water then you can benefit from cold-water detergents.
Eco-Friendly Detergents:
With the rising awareness about the earth's conditions and also the environment, brands are trying to focus on eco-friendly detergents. While they may not be the best ones available, you can still try them out if you are environmentally aware. You will eventually find that all detergents are made keeping their impact on the environment on the mind.
So, the choice is yours and the condition you live in.
Concern About Allergies
When you are looking for the best detergent for yourself, just thinking about how well they remove stains is not enough- you have to think about the impact they have on humans as well. Now, all detergents are not made of the same ingredients. Therefore, there may be such an ingredient in the detergent that you may be allergic to.
Thus, it is necessary that you check the list of ingredients the detergent has in it. If you are not aware of any allergy then you can try the detergent out but if it causes any problem you can shift to another one immediately. Your health comes first.
The Enzymes In The Detergents
You are looking for detergents that can remove stains for you. At times, detergents cannot remove all kinds of stains alone be it blood, oil, sauce, etc. In such cases, a few detergents have enzymes in them to ease and speed up the process.
The enzymes are in the form of protein, carbohydrates, etc. In this case, while the stain may get removed easily, you may face things like allergies or skin irritation. As important as it is for you to remove the stain, it is important that you do not get irritation or rash either.
If the detergent with the enzymes works for you then great! If it does not then explore more to find one that works without causing any such irritation.
The Ones That Brighten
If you wear or have a lot of white clothes then the task of washing clothes is even harder. It is harder to remove stains and also it is harder to keep the new look of the fabric. Now, in order to address this problem what detergent brands do is include a kind of brightener in them to cause optical illusions.
They do not make the piece of clothing whiter than it is but what they do is create an optical illusion with colors and light so that you find them brighter. So, if you want brighter whiter clothes after each wash rather than yellow ones then you can consider such a feature in the detergents.
The Scents They Leave
Some people are allergic to scents while others love it. If you do not like artificial scents on your clothes then you can look for detergents that do not have scents. On the other hand, if you do like scents, you have quite a variety of scents to choose from.
What you ave to check is that the scent lasts long enough for you to smell it and also is not so strong that it disturbs your senses.
The Ease Of Use
Washing clothes is hard enough so you do not want the detergent to be too hard to deal with. For example, some detergents need a bit of time to dissolve or get active. If you do not want to wait then avoid these detergents.
The way you get the detergent from the packet is also a factor. Liquid Detergents that come with a hand- push system are very convenient. On the other hand, pods are the most convenient to use as you do not even have to do anything before using them.
The price and amount
Detergents are like a daily necessity. Even if you can afford it, it is not wise to use something very expensive yet inefficient on the daily. This is why, you should make sure that even if you are paying more for your detergent, you are finding it worth it.
Make sure that the detergent can handle the number of clothes you want to wash using it. Furthermore, it should also last a while and the price should be worth it as well.
The Benefits
Why should you buy laundry detergents that are dedicated to removing stains? Here are a few reasons.
Save Your Clothes:
Accidents can occur anytime and you should not have to suffer for the rest of your life for them.
So, if you accidentally stain your or someone else's favorite piece of clothing then the laundry detergent for stains can jump to your aid. You can rest assured that the stain will be dealt with.
Intense Cleanse:
A detergent capable of removing stains is a powerful detergent. So, if you want to maintain the hygiene of your house really well then a detergent meant for removing stains can take you a long way.
Efficiency:
Whether these detergents are High Efficient or not, they are quite efficient. Since they can deal with stains, you can use smaller amounts of them when you are dealing with other clothes that are not stained.
In fact, you will feel the same satisfaction you would have felt when you got a spotless shirt that was stained before you wash it.
Frequently Asked Questions:
Will Home-made detergents work to remove stains?
Of course, it will. You just have to make sure that the ingredients you use are right for the purpose at hand and also you have to mix them in the right proportion. Homemade detergents will serve you better if you are looking for ways to save money.
Can you use the same detergent for top loader and front loader machines?
Ans: If a detergent is specifically made for a certain type of machine, it is best to stick to that type. It is much like fitting a piece to the puzzle. Or else, it could cause machine harm. So, stick to top loader detergent for top loader machines and front loader detergent for the front loader ones.
Do laundry detergents harm the environment?
In general, they do not, however, the use of excess chemicals can. For example, detergents often have sulfates and phosphates in them. In these cases, too much of such chemicals can harm the environment.
Which is better to use with detergents? Hot or cold water?
When it comes to cleaning, it is always better to use hot water as you may already know. However, you will find detergents that are specifically dedicated to working better in cold water.
In conclusion
Detergents are usually something you do not put much thought into when buying. You just check the label and buy them expecting your cleaning process to do the magic for you. But, you do have to consider them seriously if you want the best results when it comes to stain removal.
Moreover, there is the matter of safety as well. You do not want an allergy attack. Furthermore, you do not want to waste your money, time or effort. Therefore, consider what you learned about detergents well to get the best results.