While some argue that there are more good reasons for switching from regular mops to steam mops, others stick to the perspective that a regular mop is worth the labor involved and costs saved.
The steam mop sanitizes your floor and works faster, but we also understand that it comes with quite a few drawbacks. The regular mop is also good for quick responses, but it has merits and demerits, too, and the debate on whichever is the best never seems to end.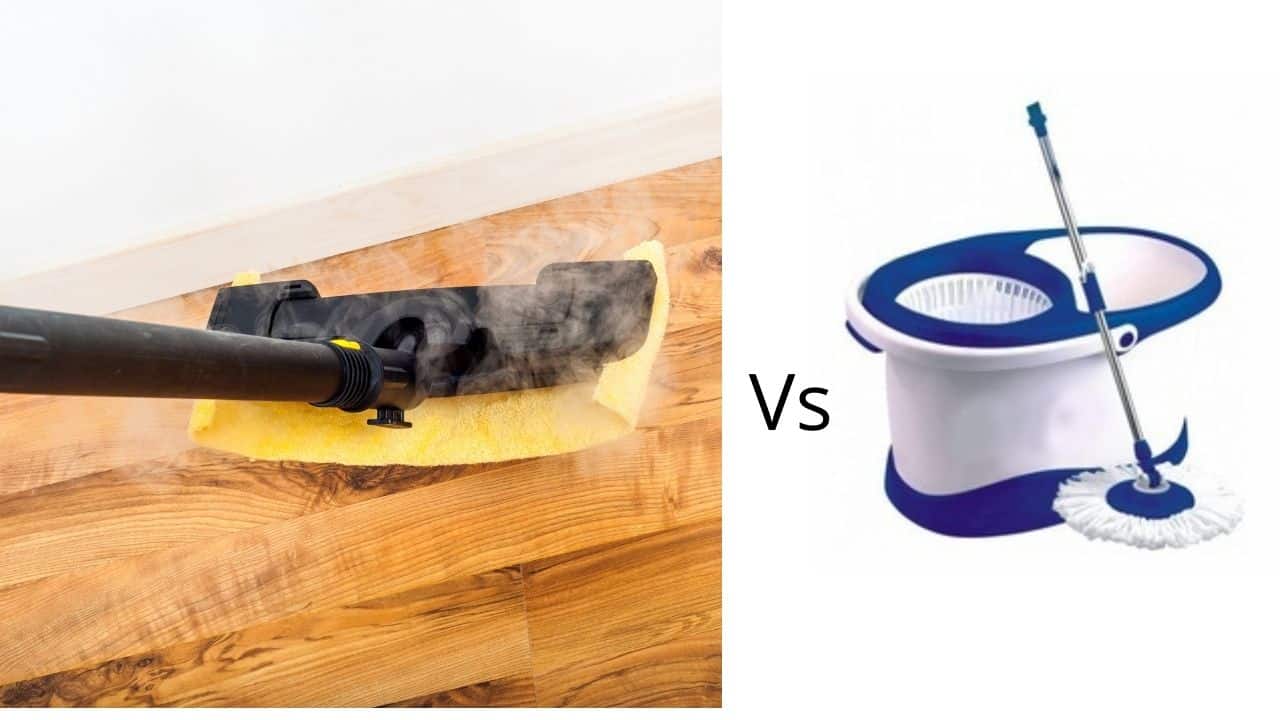 Today, we delve into an exhaustive comparison between the two in this "steam mop vs. regular mop" article.
After a long investigation, we've come up with a comprehensive comparison and a bottom line to the matter at hand. But, before the actual comparison, it's necessary to wrap our heads around a few details about each.
Read on.
The Regular Mop
You only need a piece of mopping cloth, bucket, water, a cleaning product, and you have a regular mop. It's the traditional solution to cleaning floors, and the modern-day types are even more sophisticated; thus, more effective and easier to use.
You don't need more explanation to understand the regular mop (perhaps you already own one).
Steam Mop
The steam mop is a product of technology. It's a machine that needs only water and electric power as the input. You need to keep in mind that it must undergo maintenance, cautious use, and other danger-alleviating practices.
How To Use The Steam Mop
Here are the gem steps involved in using the steam mopping machine.
Start by adding water to the reservoir. There's a recommended capacity to add, so kindly do not exceed it. Otherwise, water may find its way out as it boils.
Time to attach a mop pad to the machine's head and plug in the machine to start boiling. You'll wait for some seconds for the boiling to complete and unplug your machine. Most mop machines have a "boiling complete" indicator.
Start steam-cleaning now. Move the machine forward and backward slowly, but not too slowly to overheat a spot. Do not leave any spot untouched. Mop in rows to avoid skipping any spots and or areas. This is the whole process.
The floor will dry within no time after cleaning using steam. The process also takes only a few minutes for a large area.
How To Use The Regular Mop
For the best results, use these steps to clean your floor with the regular mop.
Make a solution of warm water and your preferred cleaning detergent. Add the detergent into the water as recommended on its label.
Insert your clean mop into the solution in (1) above and use it to scrub your floor with the hands. Do not leave any surfaces untouched.
Return the mop into water and rinse it before bringing it out and wringing out excess water. Repeat the cleaning process, as described in the steps above.
After the second mopping, allow the floor some time to dry.
Despite the process being quite time-consuming, it's also labor-intensive. Let's see a few more differences between the two with regard to various attributes, as described below.
Sale
O-Cedar EasyWring Microfiber Spin Mop, Bucket Floor Cleaning System, Red, Gray
HANDS-FREE WRINGING: Our exclusive mop bucket design features a built-in wringer that allows for hands-free wringing while Splash Guard keeps water splash and spray inside the bucket when wringing or when transporting the bucket from room to room
MACHINE WASHABLE: The EasyWring Microfiber Mop Head is machine-washable and reusable! We recommend replacing the mop head refill every 3 months for optimal floor cleaning results
DEEP CLEANING MICROFIBER: O-Cedar's EasyWring Microfiber Spin Mop & Bucket Floor Cleaning System uses millions of strands of advanced microfiber to effectively capture dirt and grime with just plain water, eliminating the need for harsh chemicals. Safe for all hard flooring, including finished hardwood, wood, laminate, tile, vinyl and more.
REACHES IN CORNERS: Due to the patented triangle mop-head and ability to rotate 360 degrees, the EasyWring Mop can reach and clean deep into corners, under furniture, alongside baseboards, and between tile.
1 REFILL = 3 MONTHS OF CLEANING: This offer includes 1 EasyWring Refill, and each EasyWring Microfiber Refill lasts up to 3 months! Save time and money with longer-lasting mop head replacements
The Comparison:
The Effort Needed
A regular mop doesn't go easy on your back. Besides, it engages both of your hands in a tedious scrubbing and wringing exercise, especially when your floor is quite dirty.
On the other hand, a steam mop can be moved across the floor using one hand. It's easier to move across the floor and even more effective than the manual mop. Let's take a look at how their costs compare.
The Cost
Everyone knows that the steam mop costs quite more than a regular mop. Besides, it needs care and has an impact on your electrical bills.
The regular mop needs almost no maintenance and needs only your energy to work. You do not need to break the bank for it.
Results
Steam mops kill close to 100 percent of germs, bacteria, and viruses. They also remove allergens, dust, and other dirt. After cleaning, you don't need to wait for the floor to dry as with the regular mop, which wets the floor more.
The manual mop may kill bacteria via detergents, but this isn't a reliable and environment-friendly method. You also have to wait for long before the floor dries.
The Cleaning Speed
The manual mop consumes much of your time and energy to use, unlike a steam mopping machine that needs only a few minutes and little energy to complete the same task. You have to dip the traditional mop in warm water, wring it, and use it to scrub the floor twice each round.
The steam cleaner needs only a single back-and-forth movement, and the floor is clean.
Ease Of Use
Using both types of mops isn't rocket science, and I've already described the processes in the previous sections. However, some steam mops may come with extra features that need extra attention or user manual.
Sale
Steam Mop Cleaner 10-in-1 with Convenient Detachable Handheld Unit, Laminate/Hardwood/Tiles/Carpet Kitchen - Garment - Clothes - Pet Friendly Steamer Whole House Multipurpose Use by PurSteam World's Best Steamers
Cleans Literally Everything! Nobody likes cleaning! But with the help of our 10-in-1 Steam Mop you can clean the whole house more quickly and easily, making it cleaner and fresher than ever! Clean a lot more than floors with the built-in handheld steam cleaner, or use the flexible hose to put the cleaning power of steam in the palm of your hand. Works great as floor Steam Mop, Carpet Cleaner, steam cleaner, handheld garment steamer window, mirror & glass cleaner & much more.
Child & Pet Safe - Best steam cleaner for tile & hardwood, cleaning with no chemicals, leaves the floors looking new and really clean. Comes with special surface scrubber, providing versatile cleaning from Top to Bottom. Ideal for Glass, Sealed Stone, Stainless Steel, and Sealed Tile/Grout.
Light And Maneuverable. 3 Adjustable modes help you cater the mop's steam level to your specific needs. That's especially important when you're trying to preserve your hardwood floors finish. The steam cleaner's 380 ml (12.8 oz) reservoir provides around 25 minutes of steam at the lowest setting and about 12 minutes of steam at the maximum steam setting. One real bonus is that it uses tap water alone to steam off dirt, eliminating the need to buy pricey detergent.
Multifunctional Household Tool - Safe to use on any surface you want to clean: hardwood floors, vinyl, tiles, marble, ceramic & porcelain tiles. Not only that, but you can also clean anything around the house with our built-in handheld steam cleaner. Just install the attachment you need and let the steam do all the work for you!
Advantages Of Each
The Steam Mop:
Friendly To The Environment
By now, you know that only water and electric power are needed for this machine to function. No detergents! No chemicals! To this effect, you can use them without affecting your pets and children health-wise. That's a fortune, isn't it?
Less Effort Used
You only need one hand to push and pull the steam machine forward and backward. However, you must take care not to make contact with the steam produced due to injury risks.
Sanitizes Your Floor
The hot steam from this machine kills 99.9 percent of viruses, bacteria, and other unwanted microorganisms on your floor. Using heat is a natural and surefire way to destroy germs and microorganisms.
Multiple settings
The best steam mops come with multiple settings. Mostly, there'll be three settings to choose from in a modern mop: normal, deep, and dust-cleaning. Further, you can control the temperature and other stuff. Use each setting and adjustment according to your floor's requirements.
The Regular Mop:
Cost-effectiveness
The relative difference in the cost of a steam cleaner and the regular type is quite significant. You only need a bucket, a nylon (or other material) mop, and some detergent. With the steam mop, you may have to break the bank.
Source Of Exercise
Do not regard the effort demands of a traditional mop as a punishment, but as a boon. Some people will take up this type of mopping to help them perform some workout. It's a great workout for the arms and waist, leave alone the back and legs.
Safe For The Majority Of Floorings
Unlike the steam cleaner, a traditional mop won't go hard on such floors as the hardwood, vinyl, and others. You can use it in the damp condition for deep-cleaning or dry conditions for lighter cleaning requirements.
Best For Quick Responses
The absorbent nature of a traditional mop is significant in clearing such messes as spills. It absorbs much liquid in no time.
Disadvantages Of Each
The Steam Mop:
It's Costly
This machine needs no little budget. Some can cost as much as $200 and even more. You know how little the regular mop can cost you — even $10.
It's Dangerous For Some Flooring Materials
Most of the time, these mops are meant for tiles. Using them on hardwood floors has some disadvantages, including voiding the floor's warranty. There are also cons of using the machine on vinyl and laminate floors, among others.
Needs Power Supply
Most steam mops need a constant power supply, which significantly increases your bills and limits your time and space of use. I'll explain it. If the mop is cordless, it has a limited power supply, limiting your time of use, especially if you have a large floor. In case the mop is corded, you'll need to keep it attached to the main power outlet, and the cord will limit how far you can go.
The Regular Mop:
It's Laborious
This mop demands that you alternate between bending and standing while moving your hands back and forth. Wringing the mop isn't also a task to ignore. While this can be a good workout (if used well), it can turn out to be harmful, especially if you bend in the wrong posture.
Detergents May Be Harmful
You need a detergent to make the cleaning attempt of the traditional mops a success. However, detergents can also be harmful. Their fragrances and other chemical components have been established to cause myriads of health problems. To evade such trouble, you must be choosy.
Doesn't Sanitize Effectively
Compared to the steam mop, a regular mop doesn't have the ability to effectively kill bacteria and viruses. Although it kills some, those that are hidden in cracks and crevices remain.
The Bottom Line
Based on your needs, conditions, and the elaborate information you just read above, it's now your turn to make up your mind for the best one between the steam and regular mops.
If you're interested in eradicating stubborn dirt, stains, and microorganisms, you need the steam mop. However, you must be ready to spend more, and your floor must stand up to the use.
On the other hand, a traditional mop will help you do away with regular debris, spills, and other loose dirt without straining your pocket. It's also kind on all types of flooring.
Nevertheless, I hope that this steam mop vs. regular mop debate was helpful and that you're willing to share it with friends. Thanks for reading.