We do like steams, like steam baths or steaming cups of coffee. What about steaming the bathroom? This article is for introducing you to the best bathroom steam cleaner that will clean better than chemicals.
No more toxic chemicals. Yes, steam cleaners use natural water to give a whole new surface that's clean and sterilized.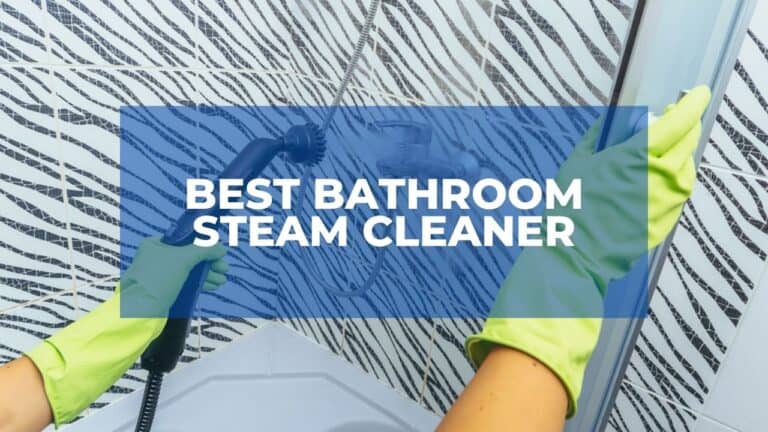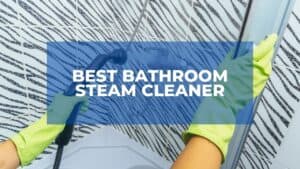 When was the last time you cleaned the bathroom?
Let's say you have the high caliber of ignoring grimes. But what if one day you end up landing on the slippery floor you were averting for so long.
Don't ignore cleaning. And to lessen your trouble, we are here with some excellent steam cleaners.
IN A HURRY? HERE'S OUR TOP PICKS…
8 Steam Cleaners That Work Great For Bathroom
Steam cleaners win over brush cleaners in many ways. Especially, when it's about cleaning the bathroom. The overwhelming advantage is its ability to disinfect in the course of cleaning. In this section, you will find eight competing steam cleaners; and all are perfectly suitable to be your best bathroom steam cleaner.
Clean and disinfect with all-in-one Dupray Neat Steam Cleaner. Now your bathroom won't be any less refreshing than rooms. This versatile steam cleaner will not only make your bathroom squeaky clean but also will kill all the germs and bacteria. And you can aromatize to dispel any bad smells simultaneously.
It is the best multipurpose steam cleaner that cleans all kinds of surfaces using targeted steam on the spot. You can switch between cleaning mops according to the surface material. Besides, there's no need to purchase separate pads for the cleaner. Your old unused items will work fine for it.
The machine is strongly built to handle prolonged cleaning loads. It has a handsome water reservoir that will last for an hour without the necessity of refilling. And you can fill the tank with tap water; no need for chemical cleaner.
The ergonomic design gives a better grip on the handle with more controlled movements. Moreover, Dupray Steam Cleaner is highly portable due to its lightweight and integrated design. You can conveniently connect parts in no time before starting off.
The steamer boils water pretty fast. It applies steam without bedewing the surrounding except for little droplets here and there. The long power cord gives more flexibility in cleaning, and you can glide it through floors, corners, and narrow passages without tipping.
What We Like:
  Durable but light
  Modular design with easy assembling
  Easy to carry around and use
  Large water reservoir
  Long operating time
  Telescopic handle
  Smoothly glides through any surface
  Remove stains and germs
  Fast heating technology
  Extended power cord
  Listed Safe by professionals
What We Don't Like:
No trigger lock
Body heats up during use
Your little friend will move along, leaving a shiny surface everywhere. Vapamore wants to earn your trust before anything. That's why it comes with an indefinite servicing assurance against any damage. But that's not the only thing it offers. It contains the largest collection of extensions that are easily interchangeable.
It is the best handheld steam cleaner for killing germs and insects. Amico has a powerful heating component that can bring the temperature up to around 99 degrees Celsius, and that's within a very short time. The sweltering steam kills bacteria and bugs like nothing else.
Amico comes in a small portable design which is perfect for targeted application. The comfortable handgrip delegates more control to users and allows quick steaming around any corner. However, the small size means less reservation. So you will have to put up with frequent refilling if you decide on whole-house cleaning.
The handheld steam cleaner works gracefully on grimes and grouts. Despite the low runtime, it cleans quite fast, and you will end up with shiny new sinks, walls, tubs, and water closets in no time. Besides, the high heated steam means no germs and total hygiene for the bathroom.
What We Like:
Compact and lightweight body
Hand-fit design for swift application
Suitable for all types of cleaning
Hard-wearing heating components
Swift heating technology
Comfortable holding makes use of effortless
Easy interchanging of parts
Use tap water to vaporize
Clean without chemical
Perfect for sanitizing and killing bugs
Holds a wide assortment of supplements
Lifetime servicing
What We Don't Like:
Low water reserving capacity
Short runtime
Clean all tough stains of your toilet in one shot with BISSELL Steam Shot. It is the best steam cleaner for hard surfaces. With a single steam blow, you can clean the most stubborn dirt from grouts and hinges. More of it, the searing steam kills bacteria and germs and ensures total sanitization with refreshing air for bathrooms.
BISSELL steamer cleaner doesn't come with a large water tank. However, it makes efficient use of its reservoir. It cleans swiftly, and that's without the use of any chemical solution. Besides, the steamer doesn't create any lethal residue or toxic fumes.
Deluxe steamer has a compact design with an easy operating button. It conveniently removes old stains going inside tight-fit places, and that's without scrubbing.
The steam takes minimum water to clean tough stains and dries out soon. And the long power cord allows large area cleaning without restricting use.
The steamer comes in a modular design that is easy to put together and ensures quick interchanging between parts. Its powerful motor warms up water within a jiff, which cuts the waiting time of refilling to half.
BISSELL believes in sustainable development; thus, they took it upon them to shelter defenseless pets. And buying BISSELL cleaner, you can take part in it too.
What We Like:
High-pressure steam cleaner
Simple press the operating button
Quick assembling and disassembling
Don't leave toxics
High power motor quickly heats water
An extra-long power cord gives more flexibility
Fast-drying out
No need for chemical cleaners
Clean and disinfect
Swift steaming with handheld design
Suitable for all surfaces and hard-to-reach places
Erase stubborn stains and grime
What We Don't Like:
Plastic parts wear out soon
Clean inside-outside safely but thoroughly with Comforday Steam Cleaner. This versatile steam cleaner is the single solution for all kinds of cleaning. Hard or gentle cleaning; it does all. Now keep your indoor clean and germ-free, and outdoor too.
Comforday steam cleaner can remove any stubborn stain within a minute. It contains the heating component that warms up water swiftly to a high boiling point. The blistering steam effortlessly softens up grimes and tough spots from grouts, tiles, and all kinds of coated surfaces.
It is a great steam cleaner for shower mold and mildews. The cleaner has a secure grip that allows targeted steam shots around corners and narrow passages. Besides, you can use it for smoothening and disinfecting fabrics.
Comforday has an extra locking mechanism to ensure total safety during use. The switch-over handle is to give reminders before use and the safety cap for added assurance.
But that's not the only safety it is concerned of. The steam cleaner not only gives chemical-free cleaning but also removes dirt without any toxic build-ups.
However, it has low water storing capacity. That cuts the operating time to a number of minutes.
Comforday cares about your contentment. Thus, it allocates a whole year to resolve any purchase allegation.
What We Like:
Suitable for the non-porous coated surface
Toxics free cleaning
Clean thoroughly within a short time
Excellent for indoor and outdoor cleaning
Work for fabric straightening
Safe use with an extra protective mechanism
Warms up quickly
Clean and sterilize both hard and soft surfaces
What We Don't Like:
Inconvenient power button design
Low runtime
Clean and renovate your house with Wagner Steam Cleaner & Wallpaper Removal. With Wagner, you can easily change the old wallpapers and alternate the whole appearance of your home. No need for toxic chemicals; only steam is enough.
Clean all kinds of dirt around the house with sterilizing steam blows and redesign with new wallpapers.
Wagner Steam Cleaner produces high-pressure steam that can soften up and remove tough greases and grimes without ado. It is the best steam cleaner for bathroom wall tiles. The long steam hose can reach up to ceiling height and clean the tiled wall at length.
The steamer is quite easy to set up. It uses distilled water to warm up and has two operating systems to match with distinct cleaning needs. The wheeling design makes it easy to shift between rooms, and the quick-heating component saves time of launching.
Wagner has a decent water reservoir that holds up for more than half an hour. Which is enough to clean the whole bathroom in one round. The long hose can shot inside confined areas and corners. And the hot steam sterilizes bathrooms from all bacteria and germs.
Nevertheless, it works as a fabric straightener as well.
What We Like:
Compact size with wheeling design
Easy to move around for cleaning
Extra-long steam hose reach high peaks
Conveniently stretch out to narrow passages
Takes off wallpaper without using substances
Dispel dirt from all household surfaces
High heating temperature removes harmful germs
Two methods of operating
Decent water reservoir
Long operating time
Fast heating technology
What We Don't Like:
Equip yourself for nifty cleaning reaching every nook and corner with McCulloch Heavy-Duty Steam Cleaner.
Now no place will be out of your reach with Mcculloch. With an extra-long power cord and hose, you can reach anywhere; from high up ceiling to low tight recesses. Besides, it provides more flexibility to move around. Therefore, you can have better control overwork.
The powerful motor quickly heats up the water to a scalding point. And the hot steam loosens up the toughest stains and grimes in no time. It does its job over all kinds of surfaces and effectively disinfects from germs and insects.
Mcculloch steam cleaner holds an adequate water reserve that allows uninterrupted steaming for a quarter less than an hour. It can thoroughly clean and sanitize your bathroom, and that's before an hour. The steamer comes equipped with a range of specialized supplements for discrete cleaning.
Nevertheless, for your security, it provides a locking feature. You can latch the power button during intervals to avoid unnecessary mishaps.
The steam cleaner has a clear safety record and provides easy insurance for a couple of years. Besides, they have a stand-by customer assistance service to help you with all product-related troubles.
What We Like:
Use high pressure for deep cleaning
Decent water reservoir
Long runtime with consistent steaming
Clean and sterilize with expert details
Reaches boiling temperature within a short time
Safe locking mechanism
Come with a wide assortment of extensions
Extra-long power cord and steam hose
More control and flexibility
Stretch out to hard reach places
Certified for safe use
What We Don't Like:
Get a whole assortment of extensions with Vapamore Primo and experience long-hours of steady flow. Vapamore Primo has a large water tank that holds around 1.5 liters of water. The high volume reserve will let you carry your tasks for no less than an hour.
The steam cleaner comes with a full bundle of supporting tools, sufficient to meet all your cleaning needs. All the parts conveniently fit inside the machine through the rear edge and quickly come out during replacement. So you can easily switch between them when needed.
It has a powerful heating system that accelerates steam temperature to a scalding point within a few minutes. And the steamer keeps releasing uninterrupted stream flows using the electronic control.
Primo Steam Cleaner works on all kinds of surfaces, balancing steam flow through its specialized extensions. The hot steam shot dissolves old stains and grimes from grouts, corners, and remote recesses within a minute, and the steady flow makes sure no germ or bacteria left under pan cover or in water passage.
Vapamore is bent upon earning your complete trust. They certify quality through unending services and ensure the safe use of machines through the added features.
What We Like:
Deep cleaning steamer
High water reserving capacity
Powerful component heats up quickly
Electronic steam control through solenoid design
High-temperature steam dispenser
Long operating time with non-stop steam flow
Complete collection of cleaning extensions
Easy interchanging of parts
Safety lock for a power button
What We Don't Like:
Unit part heats up during use
Dispense too much water with steam
Get more control over cleaning without hurting your fingers with Steamfast. Steamfast can be your great resort in cleaning bathroom floors, pans, shower tubs, sinks, and all tight-fit areas where you can't reach by your hands.
Using high force steam, it effectively softens and dissolves grimes, greases, and hard stains, not only from bathrooms but also from all soiled surfaces around the house.
It has a steam locking system that will deliver non-stop steaming without your support over the full operating time. So instead of pressing on the trigger, you can focus more on directing flows. The steam cleaner comes with an excellent collection of supplementary parts. Its sharp-pointed nozzle allows targeted shots that efficiently kill bacteria, bugs, and toxic germs.
Steamfast has a decent capacity water reservoir that will last for a three-quarter of an hour. The long power cord gives extra flexibility with its foldaway system, and the steam hose contributes by reaching any length with uninterrupted stream flows.
Steamfast has a safety standard that meets the voltage requirement and safe usage of units. Besides, it ensures total satisfaction with a couple of years of replacement.
What We Like:
A long power cord provides more flexibility
Reach inside tight spaces with long steam hose
Decent water holding capacity
Quick heating component
Extended runtime
Give rest to fingers with a steam lock design
Added extensions for all cleaning tasks
Unscratched cleaning of sealed floor
Pressurized hot steam eliminates dirt and germ alike
Store extra length of cord with consolidated wrap
Replacement guarantee
Tested for safe use
What We Don't Like:
No secure locking system for holding extensions
Parts not durable enough
How To Balance?
Steam cleaners are versatile equipment by their nature. It may seem that all the steam cleaners have the potentials to wipe your bathroom clean. But that's not the only thing they do. So how to balance between the manifold's functionality to understand their specialty.
All steam cleaners can clean, but all can't be qualified as the best bathroom steam cleaner. When your priority is cleaning the bathroom, a deep cleaning steamer with an acceptable runtime might come handier than other fancy featured ones.
However, to make a proper balance between features, you need to know what they can do and why you should want them in your unit.
Everything You Should Know About Steam Cleaners Before Purchasing:
Due to its outstanding functionality steam cleaner is well appreciated for all kinds of cleaning. It's a natural and safe option for cleaning that not only dispels dirt but also disinfects.
However, there are four prevailing types of steam cleaners categorized based on their designs and actions.
Hand-held Best Steam Cleaners:
It comes in a compact size and more portable than its companions. You can conveniently carry them around and use them for targeted steaming. This type of steamer works best on small premises like fabrics, tabletop, or BBQ grids.
But they have double-edges effects. The size that gives flexibility restricts its operation in limited minutes. Because of size, hand-held cleaners can store less water; therefore, offer shot periods of steaming. However, they are your least expensive option.
Steam Mops:
As the name suggests, its main feature is to mop the floor. But certainly, it works better than hand-pushed pads. Steam mops have a similar design to stick vacuum cleaners. They are more slight and light than a cylinder or vapor cleaners.
Steam mops work on all kinds of surfaces, even a wooden one. Besides, some of them come with extensions for carpet cleaning. It works faster than usual mops but demands frequent refilling for long-time cleaning.
Cylinder Steam Cleaner:
This type of cleaner is more weighty and hard-wearing than others. Nevertheless, Cylinder cleaners are more efficient in cleaning and sterilizing.
It uses high steam power to loosen grimes and stubborn dirt and leaves with a germ-free surface.
Its large size is capable of reserving more water. That means you can have continuous steaming for longer hours. Besides, cylinder steam cleaners usually come with a large assortment of attachments for discrete cleaning needs. And they give a more thorough cleaning than other styles.
Vapor Steam Cleaner:
It looks and works kind of like cylinder steam cleaner but is more versatile in nature. Vapor Steam Cleaners hold a detailed collection of extensions specialized in different surface cleaning.
Vapor cleaners don't clean as thoroughly as cylinder cleaners, despite their high adaptability. But they give a dry finish so that you can walk over the floor right after cleaning.
The extremely hot steam evaporate as soon as applied to the surface. That is why you will find them commonly used for fabric straightening.
These are the general segregation of steam cleaners. But our goal is to find out the best one for bathroom cleaning. Looking at the types, you might incline to go for cylinder steam cleaner.
Though in plain eyes it looks the most suitable one, you need to dig deeper before picking one.
Why?
Because the outside doesn't reflect the inside. That is why a detailed assessment is necessary before coming to any decision. Here are some aspects in the light of which you should judge for the right steam cleaner.
Capacity:
More capacity means longer operating time. A good size cleaner can store an hour's worth of steaming water. You can simply say the size determines the capacity. But as we said earlier, the large size means lesser portability. And certainly to carry such volume of water the steam cleaner can't help being heavy.
To thoroughly clean your bathroom, a decent operating period is of invaluable use.
But some handheld steam cleaners work faster than cylinder cleaners and cuts the time of cleaning to half. In that scenario, a handheld cleaner may prove a better option for you.
Besides, you need to gauge the size of your own bathroom first.
Continuous Refilling:
It will enable you to refill your cleaner when it's still in use. This feature is extremely useful in full house cleaning. Especially if you live in a large cottage.
For continuous refilling, the steamer carries two water tanks; one for refilling and the other one for heating.
Heating Time:
The faster the water heats up, the lesser you need to wait before launching. Besides, the quick heating technology reduces waiting time when frequent water refilling is necessary.
Pressure and Temperature:
High pressurized steam comes with a greater boiling hot temperature that can soften and dissolve the toughest stain within a second. Besides, high temperature is more effective in killing bacteria, bugs, and toxic germs.
However, consistent steaming with such force and intensity is required to cut the cleaning time to half.
Steam Volume:
Volume controlling feature will allow more controlled and discreet use of steams on different surfaces. Some steamer has even a steam locking design. That allows freehand operation letting the machine set out for continuous dispensing.
Flexibility:
Even a large cleaning unit can come with a more flexible design than a compact one.
Cylinder or vapor cleaners with an extra-long power cord and steam hose empower with more free-moving and targeted application than a handheld one.
Long hose permits through steaming and cleans reaching inside tight-fit areas. Besides, they are great for high wall cleaning.
Noise Level:
Steam cleaners usually don't produce much noise except when exerts some extra pressure.  So if you are buying a heavy-duty one, make sure to check its decibel level.
Attachments:
It's not unusual for large steam cleaners to come with an array of supporting parts designated to distinct cleaning surfaces. However, before using them, ensure the parts are firmly made and securely latched with the unit.
Price:
Though the cost of the steam cleaners may compel you to pick a less preferred one, we will suggest you not to step back as long as you can afford it. In using power devices that use scalding water, taking extra caution at the cost of a higher price will save both your body and money in the long run.
Other Features:
Some supporting features always come in handy and provide more security in terms of use. Like steam cleaner with a heat indicating light will notify you when it's ready to use. And a safety locking design can protect against unwanted hazards that may materialize from a sudden outburst of hot steams.
Besides, a water level indicator will prepare you ahead of time to fix the time of refilling. And some steam cleaners come with overheat protection that automatically shuts-off the unit over a certain level of temperature.
Certification:
Look for a steam cleaner that is tested for safe use and certified as a reliable one. It is safer to use. Besides, if you buy a high-power steam cleaner, check if it meets the mandatory voltage requirement.
Nevertheless, steam cleaners that come with supporting services and refunding assurance from manufacturers certify their quality.
Frequently Asked Questions:
Is steam bad for removing dirt from grouts?
No, as long as you are using only water. In fact, hot steam help loosen the stubborn grimes and fungus from grouts.
How often should you steam clean your bathroom?
There is no set answer to this question as it depends on the type of bathroom and the amount of dirt, dust, and debris that accumulates over time. However, you should steam clean your bathroom at least once a month to keep it looking clean and fresh.
Does steam cleaners remove dirt?
What a steam cleaner does is soften hard satins and grimes so that you can easily wipe them out. In that sense, yes, they do.
Does steam get rid of mold in the shower?
Yes, steam can be effective at removing mold from shower surfaces. The heat and moisture from the steam can help to loosen and lift the mold, making it easier to clean and remove. However, it's important to keep in mind that steam alone may not be sufficient to completely eliminate mold. In cases of severe mold growth, it may be necessary to use additional cleaning products and scrub the affected areas to remove the mold completely. It's also important to prevent future mold growth by thoroughly drying the shower after each use and making sure that the area is well-ventilated.
Will steam remove hard water stains?
Yes, steam can be effective at removing hard water stains. The heat and moisture from the steam can help to loosen and dissolve the mineral deposits that cause hard water stains, making it easier to clean and remove the stains. To use steam to remove hard water stains, fill the water tank of your steam cleaner and allow it to heat up. Then, using the appropriate attachments, apply the steam to the stained areas and scrub as needed to remove the stains. It's important to thoroughly dry the surfaces after cleaning to prevent new stains from forming. Additionally, using a water softener or other water treatment system can help to prevent hard water stains from forming in the first place.
What type of water should I use in my steam cleaner?
It's recommended to use plain tap water in a steam cleaner. Avoid using distilled water, as it can cause the appliance to malfunction. It's also a good idea to check the owner's manual for the specific type of water that's recommended for your steam cleaner. Using the right type of water will help ensure that your steam cleaner works properly and provides the best possible cleaning results.
Last Notes to Remember
Save the environment with steam cleaning. Steam means only water. So get rid of all the toxic chemicals and bring steam cleaners in.
Cleaning is a gruesome thing, no matter how much you want to like it. And if it's the bathroom, then even more unappealing.
But a grimy bathroom is no less revolting than the task itself. A steam cleaner will take you to the neutral ground with a clean and sanitized bathroom without any direct contact with the filth.
From all these well-designed steam cleaners, pick the one you deem as the best bathroom steam cleaner. Thereby maintain constant hygiene of the bathroom along with a refreshing ambiance.