We all know that deep cleaning is a time-consuming and physically challenging task, no matter what. However, while talking about deep cleaning, we all know that getting rid of mold in the house is another level of struggle.
And that's where a steam mop comes into the game to make the task easier. If you invest in a good steam cleaner to clean mold, you'll be amazed to see how effectively it works, and it takes no more than a few minutes to clean all the stubborn dirt from your house.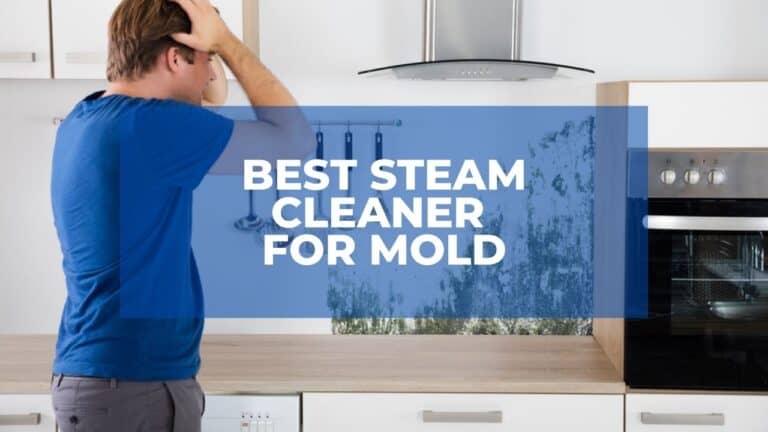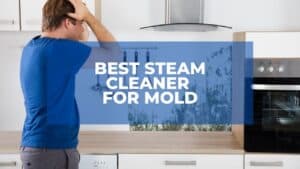 That's why here in this article, we bring you the reviews of the best steam cleaners for mold by digging deep down to the expert's and buyers' opinions. Though we know initially it might seem an expensive investment, it'll save your money and time in the long run.
So let's scroll down to know more about steamers that might attract you and give you a push to get one for yourself.
IN A HURRY? HERE'S OUR TOP PICKS…
Why Should You Buy This?
Steam cleaners are excellent since they're capable of cutting through any deeply embedded filth or grime. A steam cleaner uses the strength of water and hot steam to efficiently clean away filth, resulting in surfaces that seem like they were just installed. Not only that, steam cleaner can kill mold and bed bugs.
High temperatures of a steam cleaner can kill mold, and the bristles of brush attachments can remove it from fractures and hard-to-reach areas. As a result, the steam cleans deep into the pores of the surface you're working with, rather than just bleaching the mold away.
Moreover, if you live in a home with dogs or children, you're no doubt acquainted with stains and spills. These stains and spills can cause significant damage to your hardwood floors and linens over time.
With that being said, if you haven't installed a steamer for your house, it's high time you should get one.
6 Best Steam Cleaners For Mold Removal
Here're some of the best steam cleaners that you can try. We've enlisted the cleaners, ranging from the most powerful to the most user-friendly, which will help you get your house as clean as possible.
In the steam cleaners industry, the Karcher SC3 is one of the premium products and has a varied range of usages. With that being said, this steam cleaner can work on three types of floor settings: tiles or stone, carpet, and wood.
Another cool fact about the cleaner is that it weighs almost 3.1kg, making it pretty light and portable during work.
One of the remarkable features of the product is that it can produce continuous steam, which prevents mold and helps kill bacteria of the household up to 99.99%. However, to give you the full use of hot steam, it comes with microfiber pads.
The Karcher steamer has incredible tank capacity and built-in technology that gives a red signal if the water level goes down. But once you've refilled the water tank, it takes a maximum of 40 to 60 seconds to heat.
A seven-meter cable comes along with the steam cleaner that can be a problem sometimes. But the top connector has a groove that helps keep the wire up high and out of the way while you're working, which is quite useful.
Not to mention that the cleaner is safe around children and pets as it doesn't contain any toxic chemicals. You can safely use the tap water in the cleaner and can see the effectiveness of the steam cleaner.
In addition to being compact and easy to store, it's also relatively easy to put up and makes a noticeable difference on almost any floor type. Because of its simplicity, efficiency, and efficacy, the Karcher SC3 EasyFix Superior is a popular choice.
Pros
Included a reliable locking mechanism
Helps to complete the task with ease
Parts are reusable and are environmentally friendly
Water hardness levels specifications with the anti-scale cartridge
The handle is easy to hold and convenient
Cons
Overwets the floor sometimes
Verdict
The Karcher Steamer is useful for regular use with built-in technology. If you want an elegant yet strong steamer, you can blindly go with this one.
When you're looking for a handheld steam cleaner on a tight budget with deep-mold cleaning power, stop right there because you can put an eye on The Bissell Deluxe Hard Surface Steam Cleaner, a steamer with an affordable price range.
At first glance, the compact and portable design of the steamer will catch your eyes undoubtedly. But here's a plus and a negative point of this compact size.
Let's start with the minus point: the product will come in handy for a short task, whereas if you want to steam clean a long carpet, holding the steam cleaner for a long time will cause soreness in your arm.
Moreover, you'll need to use both hands since the connecting hose isn't long, and the spray button is located on the base. On the contrary, the compact size will help you store this handheld steam cleaner in a tiny space.
The water tank of this product weighs only 6.6 ounces, but you'll be amazed by the performance as it gives the most powerful steam. With only 30 to 60 seconds, water will heat up and provide effective service.
An angle concentrator and flat scraping tool are included in the kit to assist you in cleaning different surfaces, such as windows, appliances, tile grout, and bathroom fixtures.
Most vapor steam cleaners like this one offer chemical-free cleaning. However, this handheld steam cleaner can be used on sealed hardwood and ceramic also it's very efficient in cleaning the mold. Small surfaces are better suited to its attachments' size.
Pros
It can be used on different surfaces like ceramic, tile floors
Has steam on demand trigger for powerful high pressure cleaning
Easy to carry due to its compact size and lightweight construction
Heats up within 40 to 60 seconds to get started
Includes all the necessary cleaning accessories
Cons
Not suitable for larger areas
Verdict
If you want a tiny compact steamer at an affordable price, Bissel StreamShot Deluxe should be your choice. However, for heavy duty cleaning, you might need to look at other options.
To give the customers a quick solution regarding deep cleaning, Bissell is one of the best steam cleaners for mildew. Like the other products of this brand, the handheld steam cleaner is designed to flush away all the dirt, mold spores, and grime.
Additionally, you have complete control and set the steam level according to your preferences when it comes to the actual steam. Simply push one of the two steam buttons on the on-demand trigger to activate it.
One particularly useful feature is that it can be used both as an extended steamer and a portable steamer. To make it work, all you need to do is to switch out the top section. Furthermore, a wall mount is included to eliminate the need for additional storage space.
Not to mention, you'll be amazed by its versatility as the mop comes with approximately 30 different cleaning tools.
Four nylon brush attachments, four brass bristle brushes, four grout tools, a flat scraper tool, an angle concentrator tool, a window squeegee tool, and more are included to give you a sense of what to expect.
Although it comes with many parts, putting together the mop is a breeze. For example, if you want to use it as a floor steamer, all you have to do is to connect the head to the pole, and you're done.
When cleaning in difficult-to-reach areas, it's recommended to use an extension pole. Like other cylinder steam cleaners, this chemical-free cleaner will allow you to clean mold and difficult areas more easily without hurting your back.
Pros
Allows removing grime from outdoor and indoor
It comes with 30 different cleaning tools
Convenient for rough surfaces like ceramic and vinyl
Offers portability and mobility to port anytime
Made of durable plastics to surpass more substantial impacts
Cons
Slightly heavy than other mops
Verdict
Bissel Heavy Duty Steamer is a versatile product and comes with multiple accessories. So, if you're planning to get a steamer that'll serve a long time, go for this one.
The AutoRight is a fantastic small machine with hot steam that can reach 290 degrees Fahrenheit for you to remove the stubborn mold from your bed or sofa set.
This fabric steamer loosens and dissolves grime to remove the built-in stains and spills. That's why it just takes a few seconds to remove many layers of filth.
The water volume is enough, and you can steam clean almost two entire automobiles with a single tank of liquid.
This steam cleaner has a large 40-ounce water tank that produces steam straight for 35-minute which is impressive. But here's a warning for you that it has an eight-foot cord and extension hose, so you'll need to carry it around using either the wheels or the built-in folding handle.
Consumers were especially enthusiastic about the ability to lock the trigger, which prevents your hand from becoming fatigued while keeping it down. Compared to other steamers, this is a unique feature, no doubt.
However, here's a suggestion for you, while cleaning, move the steamer as fast as possible to prevent drips of water landing on your newly cleaned interior.
This chemical-free steamer comes with different attachments designed particularly for leather, textile seats, carpet fibers, and hard surfaces.
But one disadvantage of the steam cleaner is that the storage box for the attachments is limited and does not have enough space to hold them all.
Pros
A large tank capacity to prevent continuous refilling
Can run for a longer time without stopping
Accessories are designed specifically for an automobile
Remove all the grime without any mess
Easy to carry due to the less weight
Cons
It takes a long time to heat up
Verdict
While deep cleaning users need quite a long time, a steamer with a long running time is perfect. Considering the fact you may try the AutoRight Steamer.
Customers with busy schedules want a heavy-duty steam cleaner that can do mopping to polishing on various materials and surfaces, then Ivation All in One Household Steam Cleaner is the option they should look for!
This portable marvel, which comes equipped with a large water tank, one-touch operation, 17 different cleaning attachments, and other bonus items to get you started, provides maximum pressure to guarantee a pristine home and office.
Along with different features, a compact 1500-Watt water heater with temperature control and a handle for carrying is also included.
The next feature of this product that attracts the customers most is that its sleek design and portability. Though the steamer has 17 accessories, you can convert it from a full-size mop sweeper to a portable handheld steamer with the convenience of lightweight simplicity and easy maneuverability.
However, with the help of superheated steam, this versatile steam cleaner can take care of all of your housekeeping needs. You may enjoy up to 45 minutes of continuous steaming action by simply filling the tiny boiler unit with water and pressing the power button.
For maximum sanitization, the water boils up to 275°F. However, no chemicals are required to remove 99.9% of harmful germs, bacteria, mold spores, and mildew from high-traffic surfaces in your home and vehicle.
In addition, the product gives you more room to clean around the area, thanks to a 15.4-foot power cord, a flexible 6.2-foot hose, and a high-reach portable pole.
Pros
Heats up fast to the desired temperature
Simple and easy mechanism to operate any second
Temperatures over 100 degrees Celsius are required
Fill cap is designed to be child-resistant
Wheels have a smooth roll for convenient maneuverability
Cons
During usage, the handle gets heated
Spare components are difficult to come by
Verdict
Ivation All in One is an ideal steamer for customers who want a cleaner that can do all sorts of cleaning. This will save your money and energy at the same time.
An all-purpose steam cleaner with plenty of power, the McCulloch MC1375 Canister Steam Cleaner is one of the best steam cleaners for shower mold due to its outstanding versatility and cleaning ability.
It can aid you in removing dirt, stains, oil, bacteria, and several other contaminants from various surfaces – a powerful steam locomotive indeed. By turning the control knob, you can adjust the steam pressure to a maximum of 4 bar (58 psi).
With the help of the steam temperature that might reach 200 degrees Fahrenheit, this portable steam cleaner is plenty to delve deeply into whatever it is that you want to clean.
When you steam-sealed grout, you eliminate smells and restore the original appearance. In addition to filthy hardwood floors, ATVs, BBQ grills, and patios, this machine is strong enough to remove all forms of dirt from different surfaces.
The attachments add to the overall cleaning capabilities of the piece. However, if you ever feel confused at any stage, the instruction manual will back you up to get back to work.
Even though this steam cleaner is intended for personal use, it can be utilized in business. Apart from being ecologically friendly, it's also a superior option to chemical cleaning methods in many situations.
And again, the long power cable and long hose offer you lots of room to move about while using it. To conclude, we can say that this steamer is jam-packed with versatile features in a stylish look.
Pros
Easy installation process and reliable
The water tank has a large capacity
Convenient for larger and complex areas
No chemicals and toxins usage
Pets and children are safe around the steamer
Cons
Price is on the expensive side.
Verdict
The McCulloch can be a suitable option if you want something stylish but strong enough to remove any grime and dirt. But remember it can cost you more than other brands.
Things To Consider Before Buying The Best Steam Cleaner For Mold
When it's your first time looking for steam cleaners to remove molds, it might be a hassle. Here're the characteristics to look for to make sure you're spending your money wisely on a mop and vacuum cleaner that's more than that.
Surface
Various surfaces, ranging from upholstery and drapes to floors and grout lines, can be cleaned using a steam cleaning machine. You may consider purchasing a product made for a particular surface type according to how you want to use yours.
Specific models, on the other hand, can do a wide range of tasks. However, they may not be as successful in some areas as specialist steamers are.
Weight And Size
When purchasing a product that you'll have to carry with you, size and weight are always significant because these factors are also crucial for storage reasons, particularly if you have a tiny house and can't afford to have clutter or heavy objects that take up a lot of storage space.
Make sure to check the product pages to see how big and how heavy the steam cleaners are before making your purchase decision.
Your comfort level with pushing and dragging the cleaner about the home will be determined by its weight, and its size will define how much storage room it'll need.
Cleaner's Tank Size
The size of the tank is the second most significant factor to consider. Steam cleaners contain a reservoir that must be filled with water before the cleaner can produce the steam.
Choosing a tiny steam cleaner will also mean that the tank will have a smaller capacity; and, thus, will need more frequent refills. Even though larger units have larger tanks and can hold more water, they also take longer to heat up.
When choosing a steam cleaner, it's entirely up to you to decide what you are ready to give up in exchange for convenience.
Temperature And Pressure
Pressure and temperature are two characteristics of a steam cleaner that will influence its overall performance to some extent. In other words, you want to know how much steam pressure the machine can create and how hot the steam can become before you purchase it.
When steam cleaners run at a greater temperature, they can also create drier steam and higher pressure, resulting in the improved sanitization of the surface. However, the effectiveness of a steam cleaner is determined by more than just the temperature and pressure it can run at.
These are both pointless features if the unit is unable to keep them operating at a consistent level.
Attachments
Attachments (such as scrub tools, grout brushes, microfiber pads, nylon brushes,and fabric steamers) can be purchased separately to assist you in cleaning certain parts of your house more effectively.
So, grout attachments, which can withstand intense steam, are smaller; fabric attachments, on the other hand, should be large enough, so you don't saturate or burn the material.
Frequently Asked Questions:
What is the proper way to operate steam cleaners?
The most appropriate steam cleaning procedure is determined by the exact equipment used and the surface being cleaned. You may, however, begin by vacuuming the surface to remove dust and debris. When you're finished, keep the steamer about 6 inches away from the surface and use fast, up-and-down sweeping strokes to make it clean. Then allow the surface to dry thoroughly before continuing.
How does steaming eliminate mold?
Mold can be killed by steam cleaners. As a result, the steam cleans deep into the pores of the surface you're working with, rather than just bleaching the mold away. You can also use handheld steam cleaners for mold removal.
What is the most effective kind of steam cleaners for the average home?
A multipurpose steam cleaner is the most appropriate pressurized steam cleaner for most household cleaning needs. However, a multipurpose steam cleaner is often designed in a portable format (similar to a vacuum cleaner) and has brush attachments as standard equipment. You may use them on various surfaces, such as hard floors, carpet fibers, upholstery, tile floors, grout, draperies, and automobile interiors, among other things.
How frequently should you use steam cleaners to clean your home?
Regular steam cleaning of your living room carpet, fabric-upholstered furniture, and curtains (every three to six months) may assist in prolonging the life of these items. If you have dogs, children, or otherwise have a busy home, you may increase the frequency every six weeks. Steam cleaners may be used as regularly as mop or spray cleaners on hard surfaces like floors, worktops, tile floors, and so on. But you may not want to since it's less convenient.
Can you steam clean mold in the shower?
Yes, of course, you can. Along with the shower, you can do steam cleaning on car exteriors, kitchen appliances, upholstery, windows, sealed floors to get rid of molds.
Should you use detergent while cleaning mold with a steam cleaner?
Steam cleaners don't need detergent and may remove stains entirely with only clean water and hot steam. Some people consider them gentle cleansers since they don't have to use harsh chemicals to remove stubborn stains, making them more environmentally friendly. That's not to mean that you should refrain from using conventional chemicals. For example, using regular soap and disinfectant to clean floors and surfaces makes sense. However, you may use a steam cleaner afterward to remove certain stains if the stains are very stubborn. Similarly, it would help if you continued using cleaning chemicals for the most thorough clean, allowing the steam cleaner to do the more difficult duties.
Final Words
Regardless of how large or small your house is, there're a variety of best steam cleaners for mold available. While each of these machines can clean a variety of surfaces in your house, they're all unique.
You'll need to consider what you need ahead of time since some of the steam cleaners are far more powerful than others.
But if you're to pick and we're to suggest, we'd like you to pack up with the Kracher SC3 due to its fast heating and cleaning time. You'll never get bored.
Happy Cleaning.