Kids are playful, stubborn, and touchy — but that is heartwarming. They can fly from place to place exploring through taste and touch. But without the right care, many issues can arise, especially those related to health.
Children tend to easily pick up a lot of dirt and grime. It's your responsibility to ensure they don't run into health issues by making their environment and gaming tools clean.
That's why most parents struggle to keep their environment clean and healthy. But since disinfectants and other chemicals have simply lost their appeal, it's time parents gave steam cleaning a shot.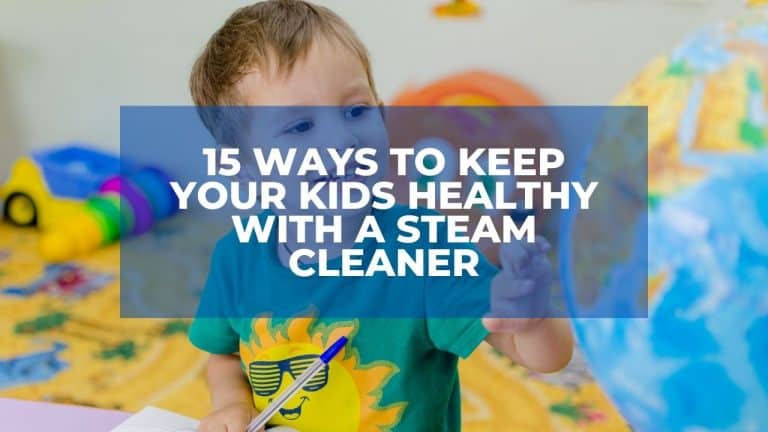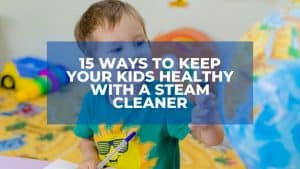 It's a life-changer when it comes to simple but effective cleaning. And most parents ask for the best ways to keep their kids clean with steam cleaners. That's what we have for you today.
What Are The Best Ways To Keep Your Kids Healthy With A Steam Cleaner?
From cleaning their toys and sanitizing their trolleys to preparing them a clean playing ground and steaming their chairs, there are several hacks to keep your kids safe using a steam cleaner.
Make Them Safe On The Floors
Children seem to amuse themselves on the floor than anywhere else around the house. While some draw and crawl on it, others jump and run on it. Whatever they do, it's advisable to let them carry on.
You might be denying them a chance to become what they are. But it's equally important to remember that floor play doesn't come without risks. And as a parent, your responsibility is to ensure that your children are always safe and healthy.
You only want to discover a hidden genius, not bacteria, on the floor. So you got to keep it clean. The best way to do this is to use a steam cleaner, which will help you kill more than 99.9% of microorganisms so that you can rest assured that your genius is building himself on the floor without risks.
Before they start playing on the floor, clean it to get rid of most dirt, stains, and microorganisms. Dry it properly to eliminate the chances of an accident and then welcome your children to their safe playfield.
Clean Their Small Toys
We bet your kid has a lot of small toys ranging from animals and balls to cars, radio, and construction toys. Sadly, most of them usually end up in toddlers' mouths as they're known for tasting just anything that looks beautiful before them.
And as you know, toys get pretty dirty as they're touched much often. While it's quite unfortunate that we seldom remember cleaning them, thank goodness you met this piece of article.
A good steam cleaner with an appropriate attachment can bail you out in this case. Simply gather the toys Inna container and ensure that you spray them with the steam cleaner thoroughly. Make sure that you hit all parts that are dirty to loosen dirt and kill all bacteria.
Be careful while spraying electronics so that not too much steam penetrates the interior. After cleaning, wipe the toys with a damp cloth.
Sale
PurSteam Steam Mop Cleaner 10-in-1 with Convenient Detachable Handheld Unit, Laminate/Hardwood/Tiles/Carpet Kitchen - Garment - Clothes - Pet Friendly Steamer Whole House Multipurpose Use
Cleans Literally Everything! Nobody likes cleaning! But with the help of our 10-in-1 Steam Mop you can clean the whole house more quickly and easily, making it cleaner and fresher than ever! Clean a lot more than floors with the built-in handheld steam cleaner, or use the flexible hose to put the cleaning power of steam in the palm of your hand. Works great as floor Steam Mop, Carpet Cleaner, steam cleaner, handheld garment steamer window, mirror & glass cleaner & much more.
Child & Pet Safe - Best steam cleaner for tile & hardwood, cleaning with no chemicals, leaves the floors looking new and really clean. Comes with special surface scrubber, providing versatile cleaning from Top to Bottom. Ideal for Glass, Sealed Stone, Stainless Steel, and Sealed Tile/Grout.
Light And Maneuverable. 3 Adjustable modes help you cater the mop's steam level to your specific needs. That's especially important when you're trying to preserve your hardwood floors finish. The steam cleaner's 380 ml (12.8 oz) reservoir provides around 25 minutes of steam at the lowest setting and about 12 minutes of steam at the maximum steam setting. One real bonus is that it uses tap water alone to steam off dirt, eliminating the need to buy pricey detergent.
Multifunctional Household Tool - Safe to use on any surface you want to clean: hardwood floors, vinyl, tiles, marble, ceramic & porcelain tiles. Not only that, but you can also clean anything around the house with our built-in handheld steam cleaner. Just install the attachment you need and let the steam do all the work for you!
Rid Their Mattresses of Dirt And Microorganisms
Children spend most of their time on their mattresses sleeping, playing, or just relaxing. But with bedbugs, allergens, and dirt, they may not enjoy their time. One of the best things to do so that your children are safe and healthy on their mattresses is to use a steam cleaner to remove dirt and kill bacteria, viruses, and other germs.
Use a mop attachment alongside a rug and run the steam cleaner along your mattress in rows to ensure full coverage. Steaming at 212° in a few seconds is enough to clean and sanitize the mattress.
The good news is that you don't need harmful chemicals but only hot water to make the mattress clean and safe.
Never Use Chemicals
Some people think it's more rewarding to use detergent and or other chemicals with water in a steam cleaner to enhance the results. Well, if you haven't learned that this isn't safe for you, your kids, and your pets, please know that steam cleaners are meant to be used with water alone.
Apart from causing allergic reactions, chemicals may also cause diseases and make your cleaning experience daunting. They can also destroy your steam cleaning machine as they're not recommended by the manufacturer in the first place.
What's more, you don't need to spend an extra coin on chemicals if cleaning with pure water alone works perfectly. Therefore, save your children from all these and keep them safe and healthy with your steam cleaner.
Steam Their Large Toys
As your children get older, they start demanding bigger toys like trucks, teddy bears, and trains just to mention a few. Keeping all other factors constant, larger toys have the potential to accommodate more dirt, bacteria, and other germs. Cleaning them will help you make a huge step towards making your kids healthy and safe.
Put trucks and trains together in a washing net or colander and steam them thoroughly on all sides to ensure that no germs are skipped. If done correctly, you'll kill 99.9 percent of bacteria and other types of germs. And, your kids will stay healthy while playing with their clean toys.
Sanitize The Stroller
The baby stroller walks many places, gathering a lot of dust, dirt, bacteria, and other types of microbes. From the wheels to the tray, it can get extremely dirty. And we both understand that this can cause a lot of health issues to your child.
Solution? They need proper cleaning. But cleaning baby strollers isn't a park's walk. Most of them don't have removable covers That you can throw into the washing machine.
A steam cleaner will come in handy in such a situation. You can use it to rid baby strollers of all types of dirt and bacteria for a healthy environment. But before you steam clean your baby's stroller, use a vacuum to remove all the debris first.
Then, use the steam cleaner to loosen and flush away all dirt. Trust us, you'll definitely love the results.
Clean The Chairs
Children are touchy and messy on chairs. They can make chairs sticky and dirty within minutes. Whether it's fingerprints, dried food, or other types of dirty marks, they can be removed using a steam cleaner so that the chairs can be safe for playing again.
It doesn't matter whether the dirt is trapped in cracks and crevices or how deep the chair is stained. The steam cleaner can remove all of them.
No chemicals are used and you don't need much knowledge to learn how to use a steam cleaner. Moreover, you'll clean even hard-to-reach spots like crevices and cracks clean them without putting in the extra effort.
Always remember to follow all safety use instructions to avoid running into problems.
Disinfect Their Sneakers
Your kids' sneakers are yet another pair that collects all types of grime and germs that could cause harm. They trudge on every kind of bacteria, germs, and dirt. And when it comes to that time of the year when shoes are allowed into the house, kids will often run back in to grab a piece of snack and out to return to play. The best way to deal with such a situation is to steam clean the sneakers.
Very high steaming temperatures will certainly eliminate all kinds of germs, bacteria, viruses, and other types of germs. What's better, a steam cleaner can also do away with odors.
Simply steam blast each sneaker for about 15 seconds and you'll be done. Ensure that you cover all surfaces to loosen every dirt. If the shows are muddy, it's advisable to wash them in water first.
Clean The Walls
Kids between 2 and 8 years old love interacting with walls much often. Unfortunately, if you don't have a play or learning wall for them, they'll use your walls instead. And when they do, you'll start seeing all kinds of drawings, dirt, and other unsightly stuff. Younger kids will also practically 'taste' the walls, and this can be dangerous.
You can't stop them but you can make the walls clean to keep your children safe and avoid embarrassment, especially with visitors.
A magic eraser, damp cloth, or any other tool used to clean the walls might not be ideal, especially because a lot of effort is involved. A steam cleaner will do the trick. It's the simplest and fastest way to make your walls look fresh and clean all the time.
Note: Ask an expert if your wall is safe for cleaning with a steam cleaner before actually doing it.
Sanitize Your Upholstery
Your upholstery suffers the most when it comes to messes caused by children playing in the house. Food particles, body oils, soil, bacteria, and bedbugs are some of the unpleasant stuff that may invade your upholstery.
To keep your kids from the health effects of interacting with such things, you need to get rid of the junk regularly.
Unfortunately, it's quite difficult to clean upholstery, especially if you don't have the right tools. Vacuuming can be inappropriate and using a damp cloth will only work with some materials.
Therefore, the best cleaning option is steaming. It won't leave your upholstery damp nor will it destroy the fabric. No chemicals are used and you don't need to be worried about residue.
Steam Clean The Windows
Whether they're outdoors or indoors, children tend to enjoy looking through and playing on the window glasses. While it's advisable to warn them off such dangerous places, toddlers are extremely sneaky and you may not know when they go there to put their tongue on the panes or draw them.
So to keep them healthy, you need to clean the panes, and a steam cleaner is your best partner in this case. Please avoid cleaning during cold weather as the glass may break.
Remember The Car
Kids won't stop exploring the taste and touch even in the car. But with food crumbs, fingerprints, dirt, dust, and pet dander everywhere, they aren't safe. So you need to keep them healthy by cleaning the car.
However, cleaning car seats, floor, exterior, and the roof isn't like taking candy from a baby! Trust us, it's tiresome, but with a steam cleaner, you'll get the work done superbly within minutes. However, you got to go easy on the interior as you may damage something in the process.
Go Outdoors
Steam cleaners are good at sanitizing almost everything, even in the outdoors. And for your kids' sake, you can steam the gate, windows, walls, and anything else around which your children love playing. It helps them stay healthy even if they get extremely touchy.
What's more, steam kills bedbugs, fleas, and other insects that may sting and or bite your kids outdoors. Just make sure you're using the machine safely.
Clean When They're Not Around
Of course, you also need to keep your kids safe while using the steam cleaner. The machine releases very hot steam and kids can be curious to the extent of wanting to interact with it! They may also distract you from steam cleaning the right way.
As is that's not enough, kids stand the risk of getting shocked electrically if left to play with a faulty steam cleaner. So the best thing to do is to keep them away as possible from these machines, especially while in use.
Keep The Machine Out of Their Reach
Even after use, you need to safe-keep your steam cleaner away from children's reach. A lot can happen from destruction to injury within a short time. Locking the machine in a safe room hanging it high in a hard-to-reach location are some good ideas. Whatever you do, just make sure that it's safe.
The Bottom Line
There are myriads of ways to keep your children safe with a steam cleaning machine. You should try the top-priority hacks listed here for immediate best results. Meanwhile, always remember to keep all safety measures in mind to avoid accidents and damages. Good luck!