When we think about bed bugs, hotels and motels come to our minds first. But industry experts claim that around 91% of all bed bugs infestations are found in private homes.
Sleeping on a bed with bed bugs is no less horrible than living in a haunted house. As these parasites can live up to three months without any food, eliminating them from the house requires a powerful steam cleaner, which professionals use.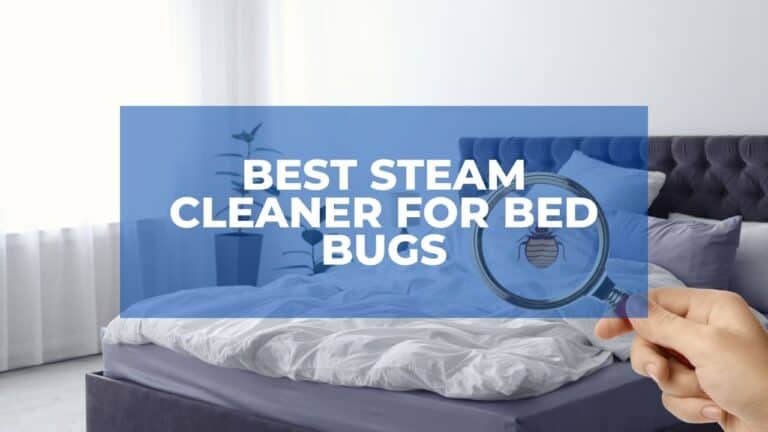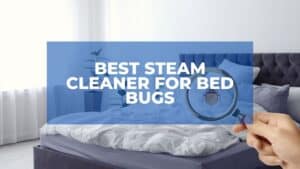 If you are to get the best steam cleaner for bed bugs, you have to make sure the unit is capable of producing high-temperature steam pressure, comes with a large capacity tank and various attachments to allow you to thoroughly clean the house.
While looking for steam cleaners, I found these 8 products to meet customers' needs the most. Also, the experts, as well as many professionals, recommend using these cleaners depending on the requirements and cleaning intensity.
IN A HURRY? HERE'S OUR TOP PICKS…
Why Should You Buy This?
Steam cleaning is a non-chemical way of treating viruses, bacteria, parasites, and similar things to make sure you live in a healthy environment. Apart from this, there are plenty of reasons why you should get one of these cleaners.
Steam cleaning is one of the best bed bug elimination treatments you can afford without paying any professional service.
You can clean grease, grime, stain, and other messes from surfaces that are made of different materials.
Using these cleaners is quite easy.
Can be used for versatile cleaning purposes, including deodorizing, disinfecting, etc.
Steam cleaners kill dust mites and prevent asthma and allergies from becoming even worse in family members.
You can mop or clean floors almost effortlessly.
Professional steam or disinfecting service costs a whole lot of money if you need to do it on a regular basis. Getting a steam cleaner is more cost-efficient and convenient.
8 Best Steam Cleaner For Bed Bugs
Whether you want a high-end cleaner or a budget-friendly cleaner to kill bed bugs, the list below has steam cleaners for everyone's needs.
The first pick is a versatile steam cleaner from Dupray. Along with killing bed bugs, you can use this cleaner for disinfecting and deodorizing the house, floors, appliances, mattresses, bathrooms, and even vehicles.
Its powerful steam cleaning leaves no room for bed bugs as well as other parasites to be alive. You can increase the temperature up to 275 degrees Fahrenheit for thorough steam cleaning results. Be sure to lower the temperature for applications that don't need such high steam pressure.
With a water tank capacity of 54 oz., you can steam clean surfaces for about 50 minutes continuously. If you need to clean further, it will take 20 minutes to refill the water and prepare the steamer for cleaning.
But, for most cleaning needs, especially killing bed bugs and bed bug eggs, you won't be able to fully empty the tank.
Unlike cheaper steamers, it doesn't leave much moisture on surfaces. While running, it doesn't produce a loud noise.
You won't need to attach fancy and expensive pads for cleaning and stuff; using any regular cloth or towel will be more than enough to eliminate bacteria and viruses up to 99%.
As it's designed as a versatile machine, it weighs around 9 lbs. You won't have to struggle to maneuver it around the house or somewhere else for a cleaning mission.
The manufacturer includes a whole lot of accessories and attachments with the package for all cleaning needs.
What We Like:
High temp steam for effective cleaning
Great protection against bacteria and viruses
Can be used on versatile surfaces
Large water tank capacity allows 50 min of operation
Relatively quiet operation
What We Don't Like:
Waiting time is 20 min for refilling
No remaining water indicator
Short Verdict
If you are to get the best bed bug steamer for versatile needs, you won't regret spending on DuprayNeat Steam Cleaner.
When it comes to heavy-duty cleaning and stuff, you will need a reliable steamer like this one from Dupray. Whether it's for bed bug infestation, deodorizing, disinfecting, or thoroughly cleaning the house or office, you will find this unit powerful enough to tackle cleaning tasks with great efficiency.
Once filling its 1.05 gal. water tank, you can continuously run the cleaning mission for 90 minutes on versatile surfaces. The previous one lasted 50 minutes, and this one lasted almost double. For heavy-duty cleaning, you won't have to take the hassle of refilling the tank frequently.
The machine only takes 8 minutes to heat up. Compared to other bed bug steamers, it heats up pretty quickly. It can reach up to 316 degrees Fahrenheit for more effective bacteria, viruses, and parasite elimination.
You can get rid of bed bugs no matter how many years the house, hotel, or motel has been infested by these parasites.
Along with the bed, the cleaner does wonders when it's about cleaning carpets, rugs, sofa, furniture, oven, and even car interior. Compared to expensive home cleaning services, it's more cost-efficient in the long term.
Despite its excellent and effective steam pressure, it produces low moisture that doesn't make the surfaces unusually wet.
Although the unit is a bit heavier, it has wheels for easy maneuvering. If your office is quite large, you won't find it hasslesome to work with this steam cleaner.
The package includes 4 attachments along with lots of tools and accessories for more convenient cleaning sessions.
What We Like:
All components and parts are made of quality materials
Can reach up to 316 degrees Fahrenheit to kill 99% of bacteria and germs
Excellent steam treatment for bed bugs
Large water tank capacity lasts for 90 minutes
User-friendly control panel along with digital interface
What We Don't Like:
Doesn't remove dirt and smell that good
Short Verdict
For its price, it's not suitable for home use unless you have a pretty big house. If heavy-duty cleaning is something your house or office needs, this would be a worthwhile investment.
More or less, all steam cleaners have versatile uses. But, if you are to get the best steam cleaner without spending much, you shouldn't miss this one from McCulloch. Eliminating dust mites, bed bug removal, and cleaning the house thoroughly will be much more convenient using this unit.
This machine can heat normal tap water up to 212 degrees Fahrenheit. The ideal steam temperature for killing bed bugs is 120 degrees Fahrenheit. Cleaning the bed for a few weeks will give you a bed free of bed bugs.
A number of customers said that it effectively eliminates 90%-100% of bed bugs after using this steam cleaner for 2 weeks.
It takes 8 minutes to heat up and is ready to steam clean various surfaces. However, for killing bed bugs, you might need to wait 30 minutes for the best results.
With 48 ounces of a water tank, the cleaner manages to provide continuous steam for about 45 minutes. For any small to mid-sized house, this runtime is more than enough for thorough cleaning.
You will be able to clean grease, grime, and stain from surfaces of various materials, including sealed wood flooring, ceramic tile, granite, laminate, grills, autos, grout, etc. For the best cleaning experience, the unit comes with a lot of accessories and attachments, including a jet nozzle.
As it's a budget-oriented steam cleaner, it comes with a few drawbacks. The attachments and accessories aren't made of high quality. There's no storage for the cord and hose. If you overfill the water tank, it may spit water.
What We Like:
Effective cleaning results for bed bug removal and dust mites' elimination
Cleans grime, grease, and stains from various surfaces
Lightweight and highly portable steam cleaner
45 minutes of continuous steaming
Comes with a lot of attachments and accessories
Value for money steam cleaner to treat bed bugs
What We Don't Like:
Water tank spits when overfilled
Short Verdict
If you are to get a super light steam cleaner that treats bed bugs exceedingly well at an affordable price point, you won't regret buying this one.
It's hard to find a budget-friendly steam cleaner that comes with high-quality attachments and has a strong and reliable build. While looking for value for money cleaners, this one from Steamfast impressed me a lot.
Like most steam cleaners on the list, this one also got a 48-ounce water tank. The motor takes about 8 minutes to heat up. While put in the real-life cleaning, it lasted above 40 minutes until it required refilling. If you have a small or mid-sized house, this unit will be more than enough for efficient cleaning.
The heat can reach up to 200°F to tackle all cleaning needs. For bed bug elimination, you would need around 120°F of heat. So, this one delivers more than what you would need. That brings this unit to the point where it can clean other surfaces as well.
Using this steam cleaner can eliminate grease, grime, stains, and other messes from surfaces made of wood, ceramic, tile, grout, granite, laminate, etc. You can even use it to clean the interior of your vehicles and get great cleaning results.
Along with bed bug infestation, cleaning grout is one of the areas that this cleaner does wonder about. Also, mopping floors becomes easier when you use them.
The overall construction feels pretty solid. There are attachments and accessories included in the package for you to use for versatile cleaning purposes. These attachments are also made of quality materials. However, the scrub pads and replaceable clothes are cheap.
To clean messes from hard-to-greet places, it comes with a 6.5 ft hose. You will also get a jet nozzle for cleaning stubborn dirt from surfaces.
Weighing 8.4 lbs., it feels like a lightweight steam cleaner while using. The included power cord is 15 ft. long, which provides great maneuverability.
What We Like:
Super effective steamer for bed bugs at a low price point
Decent steaming pressure for thorough cleaning
Can clean various types of messes from different materials
45-ounce easy to fill water tank capacity
Up to 45 minutes of runtime until refilling
15 ft. long power cord for easy movement
What We Don't Like:
Scrubbing pads and replaceable clothes are super cheap
Handle becomes considerably hot
Short Verdict
For its price, it offers more than conventional cleaners. If you are to use it for home or small office space cleaning purposes, it would be the best steam cleaner for bed bugs at this price point.
To eliminate bed bug infestations, this steamer promises to deliver effective steam treatment for the entire house in the most convenient way possible. Although it doesn't produce extremely high temperatures, it gets hot enough to kill bed bugs and disinfect the house from viruses and bacteria.
The water tank of this unit can hold up to 1500ml of water. Be sure to use distilled water for the best results. The manufacturer claims that it heats the water in 8 minutes.
But it may take up to 15 minutes for the water to properly heat up to kill bed bugs. Also, cleaning stubborn messes will need the water to continue heating for 15 minutes.
With a continuous cleaning session of 45 minutes, you will be able to thoroughly clean the house or a small office.
When subjected to real-life cleaning tests, it produced a lot of steam to thoroughly clean messes like grime, grease, and stains. Also, the steam temperature effectively eliminates parasites and dust mites.
You can use it to clean messes from both soft and hard surfaces with great results. It comes with a long handle that allows you to clean from hard to get in areas as well as tight corners.
For targeted and delicate cleaning, it comes with a jet nozzle to bring the best out of the hot steam. Cleaning grease, grime, tile grout, ovens, grills, etc., won't be much of an issue for you.
To make sure you use it for versatile purposes, the package includes various attachments and accessories for cleaning messes from different surfaces and areas. For both indoor and outdoor cleaning, you will find the unit quite capable.
What We Like:
Eliminates bed bug infestations well
Ideal for cleaning stubborn messes
Different attachments for versatile cleaning needs
Up to 45 minutes of continuous steam cleaning
Right steam pressure to treat bed bugs
What We Don't Like:
Water spits out of the tank often
Short Verdict
For periodical cleaning, this steamer does more than most conventional ones in the market. If you are to get an overall decent and well-built steamer to treat bed bugs, this would be the go-to option for you.
If you're tired of all those harsh chemicals and want to get rid of bed bugs at all costs, Vapamore MR-100 steamer can rescue you from this problem. Its effective hot steam does wonders at reducing bed bugs. After 4-5 treatments, there won't be any sign of these parasites whatsoever, which makes it the best bed steamer in its class.
With a water tank capacity of 1.6-liter, you can continue steam cleaning for up to 60 minutes. It only takes 11 minutes to heat the water for the treatment. Clean bedroom, living room, bathroom, kitchen, tile floors, vehicle interior, etc., with flawless cleaning results.
This powerful steam cleaner can produce 220°F steam with its 1500-watt water heater. Killing bed bugs requires 150°F. You can use the higher steam temperature to clean grease, grime, stain, and other stubborn messes from a wide variety of surfaces.
When it runs, it seems a bit noisy. But considering the fact that it's such a heavy-duty cleaning unit, this noise issue isn't a deal-breaking thing.
As it doesn't involve any chemicals while cleaning, you can use it to clean your pets' home, cages, crates, bedding, toys, etc.
The manufacturer included 20 tools and accessories along with multiple attachments for versatile cleaning needs. If you are to make the best out of this steamer, be sure to use these accessories for a more convenient cleaning experience.
What We Like:
Highly effective bed bug eliminating ability
Deep cleaning on surfaces of various materials
Up to 60 minutes of runtime, enough for a mid-large home
Powerful motor can produce up to 220°F of heat
Ideal for heavy-duty cleaning purposes
What We Don't Like:
Makes noise while operating
Drips water while steaming objects
Short Verdict
For its strength and power, it stands as one of the most effective bed bug steamers you can get at this price point. Of course, you will find great results using the cleaner for other purposes as well.
If you think you need to spend at least $100 for bed bug steam treatment, this handheld steamer will change your mind about it. At around $40, this one is proven to eliminate bed bugs, according to the customers.
This is basically a fabric straightener. Its constant steam removes wrinkles from fabrics with great results, and it does wonders when it comes to eradicating bed bugs as well.
Its 1100 watts motor allows the steamer to reach up to 300°F. There are two settings for different fabrics—200°F for delicate and soft and 300°F for heavier fabrics like cotton and wool.
Heating this tool takes about 75 seconds, more or less. Once it's properly heated, you can steam continuously for about 15 minutes. It kills 99% of bacteria, dust mites, and other parasites with great effectiveness.
To kill bed bugs, be sure to move across the surface or bed slowly for the best results. You might have to use it for a few weeks to get rid of the bed bug problem.
The reservoir is easy to fill. Although it only lasts for 15 minutes if used continuously, as a handheld steamer, this runtime is quite enough whether you want to use it to remove wrinkles or bed bugs.
It comes with 3 attachments for you to use in the best way possible. You will get a fabric brush, creaser, and soft cushion brush for versatile needs.
What We Like:
Powerful handheld steam cleaner for bed bugs
Comes with a relatively long power cord for its size
Dual heat settings for both thin and thick fabrics
Up to 15 minutes of continuous steam
What We Don't Like:
Takes a lot of time to kill bed bugs than regular bed bug steamers
Design flaw, gets considerably hot
Short Verdict
As it's only designed for handheld use, it does the job of killing bed bugs pretty well. At this price point, it's the best handheld steamer for bed bugs that you can get.
The last pick in this list of best steam cleaners is from Ivation. It has plenty of power and versatility to compete with other steamers for bed bugs on the list. So, just because I have listed it in the last position, it wouldn't be wise to overlook its capability.
Powered by an 1800-watt powerful motor, this pressurized steam cleaner can get up to 338°F for effective cleaning, be it bacteria, viruses, parasites, dust mites, etc. Thanks, to its 1.8 liters tank capacity, you can continuously use it for 30 minutes at its highest settings.
Compared to other steamers, it gets hot relatively faster. You can adjust the temperature for the right application for convenient cleaning sessions.
For deep cleaning and stuff, it has a gauge that notifies you about its extreme heat state. The power cord is 16.4 ft. long, which provides you with great moving ability across the house for thorough cleaning. Also, the steam hose is quite long, so you can clean it without any hassle.
The cleaner comes with a wide variety of accessories and nozzles that make it a multi-feature steam cleaner like others on the list.
What We Like:
Powerful steam cleaning with up to 338°F
1.8-liter large steam cleaner boiler
Up to 30 minutes of steam cleaning at the highest temp setting
Can treat a wide variety of indoor and outdoor materials
Pressurized steam cleaner for more delicate cleaning
Moving wheels make it highly maneuverable
What We Don't Like:
Accessories aren't made of quality materials
Short Verdict
Being one of the best bed bug steamers on the list, it offers great cleaning convenience that might attract you to go for it.
Buying Guide Of Steam Cleaner For Bed Bugs:
There're a few measures that you need to consider to get the best bed bug steamer. Not all steam cleaners are equally good to kill bed bugs. Whether you need an expensive or a budget-friendly unit, be sure to check the following things before you finalize the purchase.
Temperature
For treating bed bugs, you will need a steam cleaner that can produce more than 150°F. This is the minimum required temperature to kill bed bugs. However, you will find steam cleaners that are capable of generating higher temperatures than this; getting one of those units will allow you to use the cleaner for versatile needs.
If you also plan to disinfect, deodorize, or sanitize the house or office space, be sure to get a heavy-duty steamer that can reach more than 300°F and comes with different attachments and nozzles for versatile cleaning.
Water Tank Capacity
The more water the tank can hold, the longer it will be able to steam clean surfaces. Regardless of your budget, you shouldn't go below 45 ounces of water tank capacity. If you want a heavy-duty steam cleaner, the capacity shouldn't be less than 50 ounces.
Cleaning Time
Although the tank capacity directly influences the cleaning time, you should still determine how long it will take for you to clean the house or office. Some cleaners can run for 40-60 minutes continuously.
If you are to clean a lot of surfaces, go for a steamer that can provide up to 50 minutes of runtime before it requires refilling.
Heating Time
Depending on the motor power and how much it heats water, heating time varies. Most steam cleaner manufacturers claim that their units will heat within 8 minutes. But, to kill bed bugs, you will need to wait at least 10-12 minutes for effective elimination sessions.
If you need a unit that gets hot quicker, make sure the motor is capable of doing that. The average motor wattage is 1500-watt. So, it has to be more than 1500-watt to make water hot quicker.
Versatility
The best bed bug steamer would be versatile and not limited only to eliminating these bugs and parasites. Some steamers can thoroughly clean ceramics, tiles, hardwood floors, mattresses, sofas, furniture, grout, car interior, etc.
If you are to get one of these, make sure the unit comes with 4-5 attachments for different cleaning needs.
You can also use a versatile steam cleaner for mopping floors using both pads and clothes.
Portability
Talking about portability, steam cleaners of 9-12 pounds are considered lightweight. However, there are a bit heavier and bulky units in the market that come with wheels for easy maneuvering.
Frequently Asked Questions:
How long do you have to steam to kill bed bugs?
Eliminating bed bugs require steaming treatment at 120°F or higher temp. If you steam clean mattresses for about 15-20 minutes, you will get better results. However, this steam treatment should be continued for 2-3 weeks to eliminate all bed bugs in the house.
Does steam kill bed bugs instantly?
Steam treatment of more than 120°F can kill bed bugs as well as their eggs almost instantly if the steam hits them directly. However, you might not be able to kill all of them at once as they tend to hide in different places.
What kind of steam will kill bed bugs?
Regular tap and distilled water steam can kill bed bugs if the steam temperature is 120°F or above. It may take up to 90 minutes to kill bed bugs on the steamed area, depending on how the steam is applied to them.
Does steam cleaning get rid of bugs?
Steam cleaners use high heat steam to kill bed bugs. These are extremely powerful devices that use electricity and water to kill similar parasites, viruses, bacteria and deodorize and disinfect various surfaces.
Does steam kill bed bug eggs?
Applying steam at 120°F for about 20 minutes will kill bed bugs as well as their eggs. If the steam reaches the eggs with less than 120°F, the results might not be that effective.
What brings bed bugs out of hiding?
Heat draws bed bugs. Human body heat tells them about the host nearby. These parasites can stay a few meters away and then come when they feel the host, the source of heat.
Final Words
Steam cleaners are the No. 1 choice even for professionals to kill bed bugs. No matter which one you choose from the list above, make sure you handle the machine with care and be cautious while applying the steam treatment. If you aren't careful while using it, you may accidentally end up burning your hand.
The best steam cleaner for bed bugs doesn't have to be a heavy-duty one. As long as it generates 120°F of steam and doesn't need refilling till you're done cleaning the house, you are good to go, even with a budget-friendly one.