Pine-Sol is a powerful household cleaning product widely used to remove heavy soil stains, dirt, germs, and grease. It's one of the most popular cleaning products in the United States and around the world. The product's effectiveness on a carpet is popular. But most people are wondering if it can be used inside a steam cleaner. The question is, "Can you use Pine-Sol in a steam cleaner?"
Can You Use Pine-Sol in a Steam Cleaner?
Yes, you can use Pine-Sol in a steam cleaner but only if it's recommended. However, most manufacturers want you to use water only with their machines.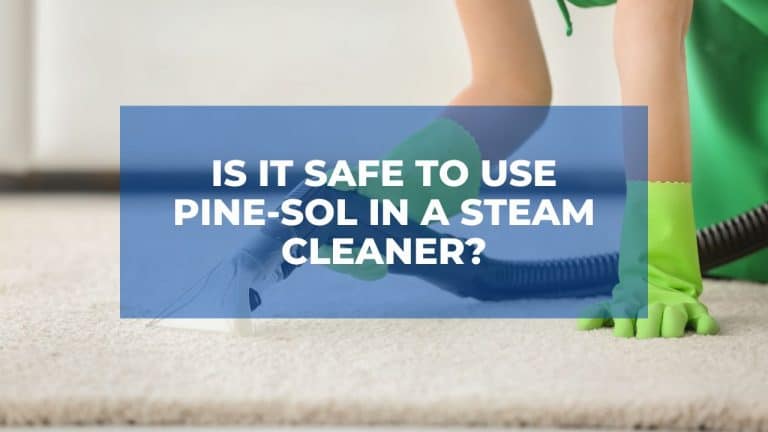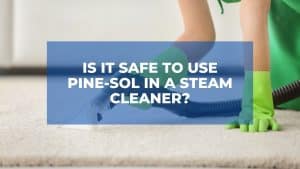 Will Pine-Sol Damage Your Steam Cleaner?
Pine-Sol is mainly made of alcohol ethoxylates, sodium lauryl sulfate, hydroxyethylcellulose, and sodium carbonate. It contains no amount of ammonia or bleach, unlike many other cleaning products.
Therefore, it's generally safe to add to a steam cleaner without the "water only" warning. The absence of ammonia and or bleach means that there will be no air pollution, and, of course, any damage to the machine's parts.
How To Clean a Carpet Using Pine-Sol And a Steam Cleaning Machine
While it's mandatory to confirm your steam cleaner's compatibility with Pine-Sol before adding the product to your machine, it doesn't mean that the two will never be used together on the same surface.
In fact, using Pine-Sol alongside a carpet cleaner leaves your carpet stain-free, odorless, and shiny. It's also safe. Here are the steps involved:
1.     Gather Appropriate Protective Gear And Clear The Space
Put all your cleaning tools and gadgets together. You'll need towels, a bottle of undiluted pine sol, protective gear, plenty of clean water, a vacuum cleaner (if possible), and the steam cleaner, of course. You can use a checklist to ensure that nothing is missing.
When all the necessary tools and equipment are available, start clearing the working area. Move furniture, electronics, and other distractors to another room so that you remain with plenty of working space. If there's no other room, move these items to one side of the same room to create space on another side.
2. Do A Spot Test
A spot test is a technique that helps you discover if your carpet is colorfast or not. Colorfast materials won't fade when chemicals are used on them. The test is usually done on a small, hidden section of the carpet.
So, dab Pine-Sol on a selected patch of the carpet and give it about 10 minutes. If it doesn't decolorize, proceed to the next step. If it does, your carpet isn't suitable for cleaning using Pine-Sol.
3. Use Pine-Sol For Cleaning
You're now sure that cleaning your carpet using Pine-Sol will cause it no harm. So, follow these steps to get it done:
Start by vacuuming the soiled section of the carpet. If you don't have a vacuum, you can hire one or use a carpet sweeper instead.
Soak a small section of a cleaning towel using the Pine-Sol solution and rub it gently on the soiled spot until the solution disappears.
Use a clean, moist towel to wipe the rubbed area slowly but thoroughly. This is meant to absorb some of the pine sol.
Finally, allow the cleaned area to dry so that you start steaming as described in the next step.
4.     Steam Clean The Carpet
Steaming a carpet that has been scrubbed with Pine-Sol is necessary to deodorize it as the aroma usually left behind isn't pleasant to some. Steam cleaning will also kill bacteria and viruses, as well as remove all the remaining stains and dirt. To do it, follow these simple steps:
Add water and any other recommended product to the machine's tank. For Bissel and Hoover steam cleaners, you can add the Bissell demineralized water and Hoover steam plus solution, respectively because they're recommended.
Plug in the machine, switch it on, and let it heat to the right temperature recommended for your carpet's fabric.
When heating is done, add a steam mop attachment to the machine's head and start steaming the affected area. Do it slowly but thoroughly, ensuring that you follow all carpet cleaning instructions recommended by the manufacturer.
5. Let it Dry
Your carpet now needs to dry. Open all windows and fans to facilitate fast drying. You can also use a dehumidifier. Whichever method is used, just make sure that the carpet dries completely before you start using it again.
Sale
Pine-Sol All Purpose Cleaner, Original Pine, 40 Ounce Bottles (Pack of 2) (Packaging May Vary)
ALL PURPOSE CLEANER: Make your home sparkle with Pine-Sol All Purpose Cleaner in the Original Pine scent that cleans, disinfects and kills 99% of germs
SAFE ON YOUR SURFACE:This Pine-Sol concentrate cleaners penetrates and removes messes on most hard nonporous surface indoors or outdoors, including appliances, outdoor furniture and can also be used to freshen laundry
CONCENTRATED CLEANER: Concentrated formula that can be diluted for most jobs, delivering 40 gallons effective cleaning product for heavy cleaning and light touch ups
PINE SOL SCENT: Deodorize and wipe out odor causing bacteria with the long lasting fresh scent of pine in a dilatable formula to tackle any job
MULTI-SURFACE CLEANER: Pine-Sol All Purpose Cleaner powers through tough dirt, grease and grime providing the multi-surface cleaner every household needs to sparkle and smell great
Other Methods That Help to Get Pine-Sol Smell Out of Carpet
If you're feeling irritated by the prolonged smell of Pine-Sol, you can get rid of it quickly using the following tried-and-tested methods.
1. Use Activated Charcoal
What you'll need:
Cardboard boxes
Activated charcoal powder
The process:
Half-fill two cardboard boxes with charcoal powder.
Place them evenly apart across the affected area/room.
Leave them to rest for about 30 minutes to 1 hour.
The activated charcoal powder will absorb the intense aroma and leave a neutral smell in the air.
You can use more boxes if you have a very large room.
2. Use a Piece of Washcloth
What you'll need:
Cardboard boxes
Unscented cat litter
The process:
Dip about 1 inch of unscented cat litter into the bottom of a cardboard box.
Simply place it inside the affected room and let it rest there for about an hour.
The smell will be quickly neutralized. But if the results aren't desirable, you can add more cardboard boxes containing cat litter until the smell disappears.
3.     Ventilate The Room
Proper ventilation will obviously get rid of any undesirable smell. Achieve it by opening all windows and doors, turning on your ceiling fans, and plugging in your air conditioner to let the bad smell out while allowing fresh air to flow into the room.
The Bottom Line
It's now clear that you can use pine sol in any steam cleaner as long as it lacks the "water only" warning from its manufacturer. The cleaner neither contains ammonia nor bleach, so it will do no harm to steam cleaners that allow other products to be added to their tanks.
Meanwhile, you can use it alongside steam cleaning to enhance the results and do away with odors.