All curtains absorb dust, and stains, and can give off a foul smell after absorbing different aromas, cigarette smoke, and other smells. Cleaning them doesn't have to be difficult as long as you know how to go about it.
And while there are many methods to clean them, many people ask, "Can I clean curtains using a steam cleaner?"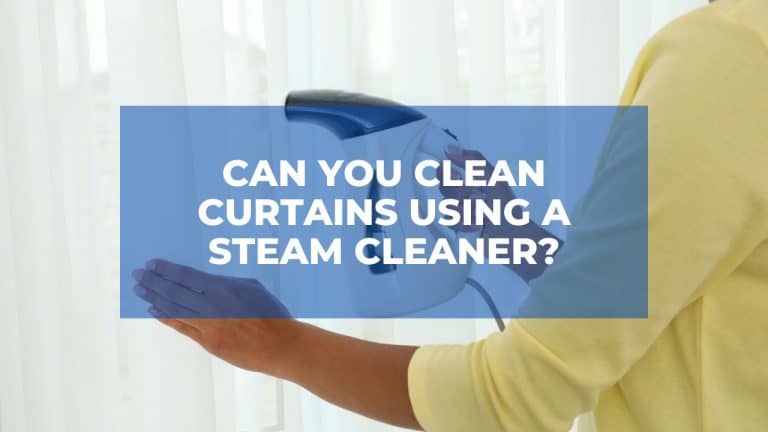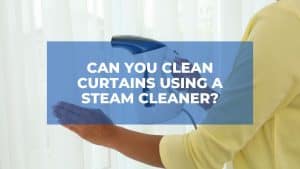 Steam cleaning is a green, non-toxic alternative cleaning method to chemical cleaning. The steam cleaning machine uses water vapor at high temperatures to remove dust, kill germs, dislodge stains, and get rid of bacteria on various surfaces, including glass windows.
What about curtains? Get your answer and more explanations below.
So, Can You Clean Curtains With A Steam Cleaner?
Yes, you can steam clean heavy and heat-resistant curtain fabrics like velvet and achieve excellent results in no time. But first, ensure that your blind's material is resistant enough to damage from heat and is recommended for steam cleaning.
Is It Better To Steam Clean or Dry Clean Curtains?
There are several factors to consider before settling on dry cleaning or steam cleaning curtains. Each has advantages and disadvantages. So it's upon you to find a line of balance and choose the method that best suits your needs and abilities.
For example, removing and returning heavy curtains during dry-cleaning can be an uphill task. So you better steam them if you want to avoid all his work. Likewise, steaming may be unachievable if you don't have access to a steam cleaning machine.
Which Steam Cleaner is Best For Curtains?
We recommend a handheld steam cleaner for all types of curtains. But there are several other factors to consider before buying or renting one.
For instance, you have to ensure that it has a hose that is long enough to reach the farthest point on your blinds from the nearest power outlet. Likewise, it should have various steam settings that go with several types of fabric.
You should also consider the weight since it's a handheld device. It should be lightweight so that you don't get fatigued while using it. What's more, you won't ignore features like the power, budget, water capacity, size, and heat-up duration to mention a few.
Of course, it may be difficult to find one with perfect features but it helps to choose a steamer that gives you the convenience you need.
Sale
Conair Handheld Garment Steamer for Clothes, Turbo ExtremeSteam 1875W, Portable Handheld Design, Strong Penetrating Steam, White / Champagne
Turbo Handheld Steamer: This steamer combines the performance of an iron with the power of steam to instantly smooth out wrinkles in clothing and upholstery while killing 99.9 percent of germs, dust mites and bed bugs.Material: Plastic.Special feature : Corded
Easy To Use: This freestanding steamer features a 40 second heat up and a 7.3 ounce water tank for up to 15 minutes of continuous steam; Quilted aluminum steamer plate and built in creaser perform like an iron for a fresh pressed look
3 In 1 Attachment: Includes a silicone band to pull fabric taut for better results, a delicate fabric spacer to protect trims and fine fabrics, and a bristle brush to ensure steam penetrates fibers for a perfect press, even on heavy fabrics
Conair Fabric Steamers: Our fabric steamers keep your garments, upholstery, curtains and other home textiles smooth and fresh; Check out entire line including handheld, upright and travel steamers
Innovative Garment Care: From fabric shavers and traditional irons to garment steamers, both handheld and full size/upright, we make high quality garment care tools for all users
How Do You Steam Clean Hanging Curtains?
Step 1: – First of all, vacuum the curtain surface to get rid of excess dust and debris. Use a handheld vacuum cleaner on the lowest settings. Avoid using a floor suction brush as it may damage or stain your curtain. We recommend a compact turbo brush preferably with a motorized brush here.
Step 2: – Fill in your steam cleaner's water tank with distilled water. We recommend the handheld steam cleaning machine. Let it heat for a few minutes as recommended by the manufacturer and attach a jet nozzle to the end of the hose. Test if steam is jetting out. When it starts coming out, move to step 2.
Step 3: – Hold the nozzle about 6 inches away from your curtain's surface and start steaming it. Spray the steam from top to bottom ensuring that you cover the whole front surface area. Do the same to the back surface of the drapes. Avoid saturating the blinds with steam at all costs.
Step 4: – Detach the jet nozzle and attach a drape tool or fabric nozzle. Repeat the cleaning process, this time, moving the nozzle a bit closer; about 2 inches closer.
Step 5: – When steaming is done, it's time to let the curtains dry. You can do this by opening all windows and turning on the fans. You may also air-dry them outdoors in the open air away from direct sunlight.
Can You Steam Clean Blackout Curtains?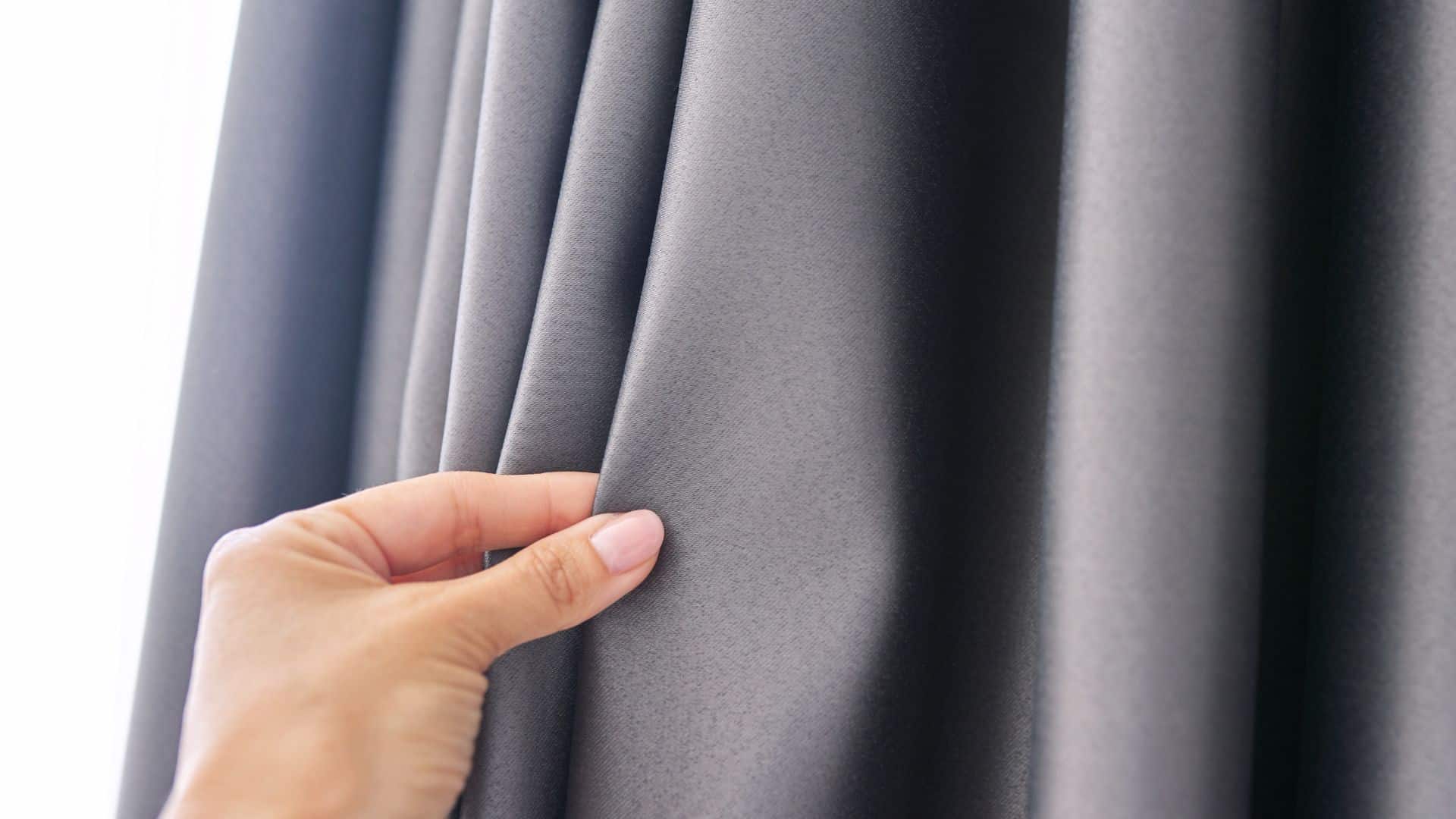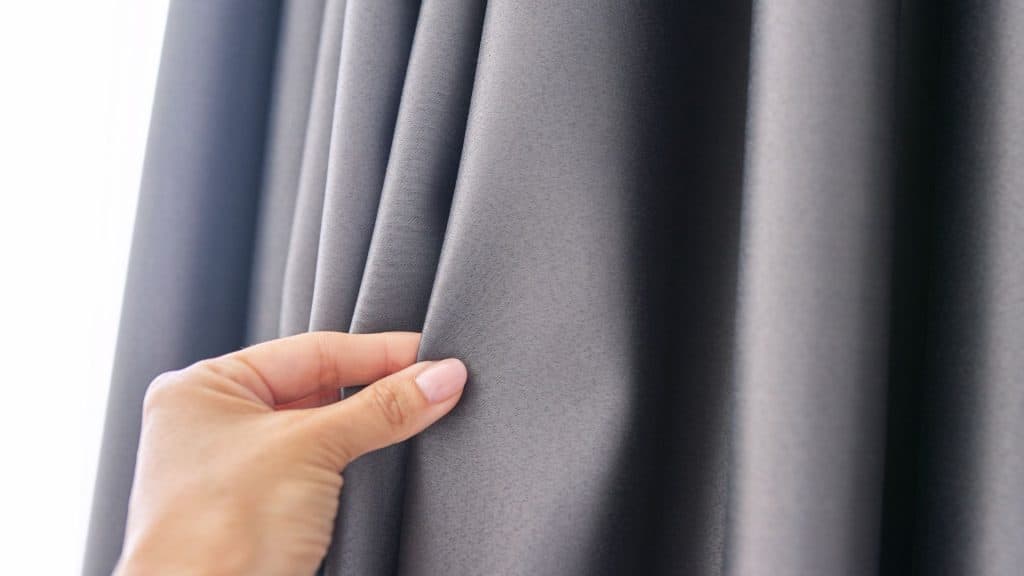 Blackout curtains block light from entering the room completely. They're made of double-lined fabric that is very tightly woven to prevent light.
If you're wondering whether or not it's safe to steam clean these expensive drapes, our answer is yes. You can steam clean blackout curtains to remove all stubborn stains, dirt, and molds.
However, you must be careful not to soak the material in hot water as you may damage it and reduce its efficiency as a result.
How Do You Get Wrinkles Out of Curtains With A Steamer?
Steam cleaning gets rid of wrinkles from curtains even without taking them down. To do it, fill your handheld steamer with water according to the manufacturer's instructions. Let it heat for the recommended time.
Aim the nozzle at the wrinkles and pull the trigger to release steam.
Steam the curtain in vertical motions; from top to bottom.
Let the curtain air-dry for about 24 hours and observe.
If the wrinkles are still there, repeat the same process above but this time in horizontal motions from side to side.
Can You Steam Clean Silk Curtains?
Silk is a delicate material. Therefore, steaming isn't the best way to clean them. We recommend dry-cleaning, hand washing, or spot-cleaning them. If you have to use steam, use the steamer under the lowest heat settings.
Can You Steam Linen Curtains?
Yes, steaming is a great way to get rid of wrinkles from linen curtains. You should use a garment steamer in this case. Do the steaming slowly but thoroughly using the steps described above.
Always remember to follow the steam cleaner's manufacturer's instructions and avoid saturating the linen curtains with steam.
The Bottom Line
For curtains to hold to their functions, they ought to be cleaned regularly and properly.  And, yes, you can clean some of them using a steam cleaner. Steaming will get the work done quickly without harming the environment.
It's also cheaper as compared to chemicals. All you need is our guide above.
We hope it helps. Good luck!