Cleaning grout channels isn't a park's walk, unlike cleaning the smoother surfaces of tiles. These joints usually contain hard-to-remove dirt and mildew that may demand more resources to remove than you expected.
But with steam cleaners, it has never been simpler. However, most people seem to feel or believe that steam cleaning isn't good for grout.
This article seeks to put to an end the myriads of misconceptions around steam cleaning and whether or not it's suitable for ridding grout of dirt.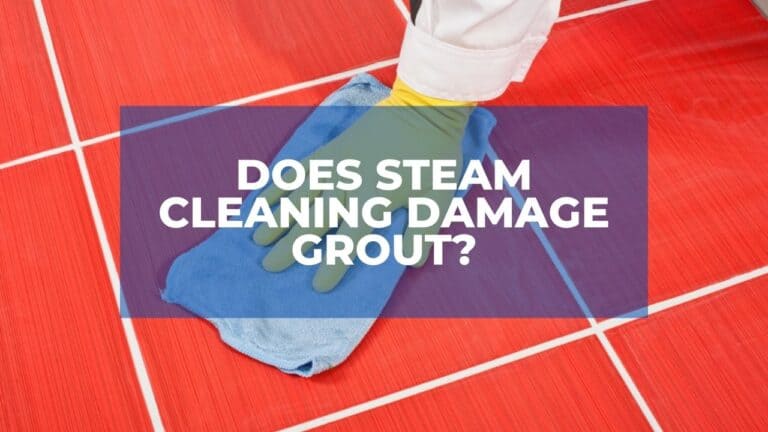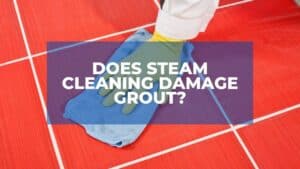 It also educates you on how to choose the right steam cleaner for grout, how to use it correctly, and when to call a professional to do the cleaning for you, among many other appropriate stuff.
Meanwhile, if you only need the answer to our main question, here it is.
Does Steam Cleaning Damage Grout on My Floors
No. Steam cleaning does not damage grout if used correctly. Pure water vapor alone cannot damage grout as it only weakens dirt and mildew.
What Is Grout?
Grout is a composite material used to fill voids in stone or tile installation. Its composition varies according to use, but the main ingredients are cement, water, lime, and color pigment. Sometimes, sand may be added to the mix if the void/crack to be filled is larger than normal.
Advantages of grout range from giving your construction a good-looking finish and keeping debris from penetrating the voids beneath your tiles — to adding rigidity and strength to the construction.
What Causes Grout Damage?
You've already learned that steam cleaning is falsely vilified for damaging the grout. But the critics have a point in some instances. For example, when you use steam that contains some harmful chemicals, you may cause cracks and finally damage in your grout.
However, there are a few negative practices that can also cause grout damage. Here are some:
Underdosing the Underlying Void with Grout
Lack of Sealing
Saturation
The explanation for underdosing is quite straightforward; an under-dose of grout cannot sustain itself in the long run. It'll soon crack. On the other hand, sealing protects the grout from seeping water.
Lack of it will give room for water and dissolved dirt/stains. Finally, unnecessary saturation of grout with excess water weakens it. That's why it is recommended that you go for pre-mixed grout.
Should I Clean or Replace Grout?
You should clean grout using a steam cleaner quite often, like twice or once a week. Use a steam cleaner with pure water to do this. If possible, use a pressurized steam cleaner. It's harmless.
And if we're talking about grout in the bathroom floor, please consider drying the floor after every use, and cleaning it twice a week. Meanwhile, consider cleaning the grout whenever you notice dirt or mildew.
Grout replacement, on the other hand, should only be done when the first one is seriously cracked or completely damaged. Not when simply stained. Replacement should be done by a professional who understands the right ratio of mixture, correct color combination, and other attributes.
Top 3 Steam Cleaner For Grout
How to Clean Grout Using a Steam Cleaner
Perhaps you're stuck in the process of cleaning your grout correctly using a steam cleaner to avoid damages and or accidents. Well, we got you! Here is the intuitive process:
Start with The Tile: You don't want anything to hamper your steam cleaning efforts, so you got to remove dirt and other unwanted materials. Consider damp-mopping floors and sponge-cleaning walls using detergent.
Set Up Your Steam Cleaner: It's now time to get your machine ready for the job. Fill it with water, turn it on, and attach the hose. Choose the right brush that suits the size and level of dirt of your grout. Please keep an eye on the manufacturer's instructions while doing all these.
Steam and Scrub: At the recommend rate of spray, start scrubbing the grout. Do a small section to completion before moving to the next. For walls, consider working from the top to avoid soiling cleaned areas.
Rinse and Repeat: Always rinse an area that is done ASAP to avoid reabsorption of dirt. Once done, repeat the whole process from #1 above on another undone area.
Choosing The Right Steam Cleaner
Steam cleaners aren't made the same. They all can't clean grout perfectly, neither will you get access to any of them that you need. Therefore, you need to wrap your head around how to choose the best one for cleaning your grout.
Here is a concise buying guide to go with before spending a coin on these godsend machines:
1. Tank Capacity
The tank capacity of a steam cleaner determines how frequently you need to refill it; hence, how large the area you're working on should be. If you want to work on a larger area, consider one with a bigger capacity (which will come at a greater cost, too), and vice versa.
2. Flexibility
Some Steam cleaners are only meant for the floor and not walls. Some are meant for both. Therefore, cut your coat according to your size.
3. Ease of Repair or Replacement
Steam cleaners are big-budget investments that you don't want to replace oftentimes. Therefore, it's wide to go with a brand whose spare parts are readily available, or is compatible with a wide range of nozzles, brushes, and other parts.
4. Cost
We can't ignore cost as a buying guide because it's the chief determinant of whether or not you'll finally purchase a steam cleaner or not. But while considering this point, ensure that you don't fall victim to cheap-but-expensive steam cleaners because the price isn't directly proportional to quality.
Should I Call A Professional?
More often than not, you don't need a professional's intervention when it comes to removing dirt from the grout. However, you're free to seek their services when the grout is too stubborn, if you don't have a steam cleaner, or if you think something is going wrong.
Sale
Clean-eez Grout Cleaner for Tile Floors with Free Stand-Up Grout Brush! Heavy Duty Formula Made from Organic Salt. Biodegradable & Easy To Use. Returns Grout to Original Color. Easy To COntrol Flip Top Cap. 32 oz.
✔️ We're here to make your life easier! Imagine if you no longer had to get down on your hands and knees to clean your tile and grout. How would it feel to have less stress when you are cleaning your floors? What would it mean to you if you could save a lot of money? With our products you can have all of that.
✔️ Used by Professionals: Grout-eez tile and grout cleaner, will remove grease, dirt and stains from ceramic, and porcelain tile and grout. It is a Heavy duty professional strength product. There are 3 reasons: Why Professionals love Grout-eez 1. Easy to use. 2. Fast to use. 3. The most important one is it WORKS!! GrROUT-EEZ IS NOT TO BE USED ON NATURAL STONE!
✔️ No more Bending down on your hands and knees: Our grout brush connects to any standard broom pole you have around the house. With our 1 of kind grout brush it is beveled and V shaped to make it easy to fit in grout lines, making it easy to remove grease and dirt. Making your life much easier.
✔️ Goes Far: With an easy pouring spout Grout-eez goes far, 1 Bottle of Grout-eez will clean approximately 250 sq feet of tile and grout. Our 2 Bottle of Grout-eez will cover approximately 500 sq ft of tile and grout.
✔️ Saves you Hundreds of dollars: Grout-eez is the easiest and Best grout cleaner on the market today Guaranteed! By using our Grout-eez cleaner you won't have to pay a professional to do it.
The Bottom Line
Steam cleaning using pure water does not damage your grout because grout is too hard to be destroyed by hot water alone. It removes dirt and mildew using high pressure and hot water. So, there's no need to fret. However, toxic chemicals may dissolve and break the grout. Avoid them! You can now proceed.